New RD Publication: NATO and the EU - The essential partners
25 Sep. 2019
|
Last updated: 25 Sep. 2019 13:33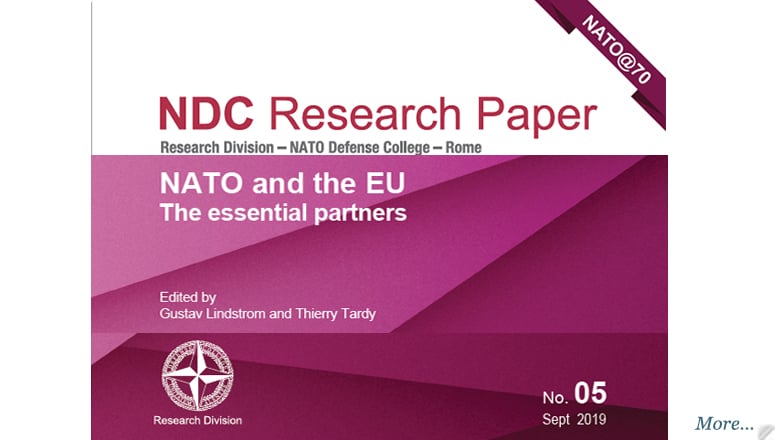 Introduction

Gustav Lindstrom and Thierry Tardy

The state of NATO-EU relations is currently high on the political agenda. There are at least three reasons for this. First, there is a genuine expectation that both organisations should increasingly work together and complement each other in an era where threats are multifaceted. There is a recognition that tackling such threats, while having to adapt their respective positions in light of geopolitical muscle flexing in other parts of the world, requires both organisations to strengthen the partnership. In 2016, the two institutions adopted a Joint Declaration that reflected on this necessity: "In light of the common challenges we are now confronting, we have to step up our efforts: we need new ways of working together and a new level of ambition; because our security is interconnected; because together we can mobilize a broad range of tools to respond to the challenges we face; and because we have to make the most efficient use of resources. A stronger NATO and a stronger EU are mutually reinforcing. Together they can better provide security in Europe and beyond".1
Second, there are concerns over how NATO-EU relations are faring at a time when the transatlantic relationship is going through turbulent times. In particular, US relations with several EU member states and the EU in general are mired in disagreements on issues ranging from the future of the Joint Comprehensive Plan of Action, also known as the Iran nuclear deal, to the possibility of introducing new tariffs on specific goods traded between the two sides. Looming on the horizon there are also concerns about the implications of Brexit for NATO-EU relations – in particular, whether it may inadvertently complicate both organisations' ability to work together.
1(back) Joint Declaration by the President of the European Council, Donald Tusk, the President of the European Commission, Jean-Claude Juncker, and the Secretary General of NATO, Jens Stoltenberg, Warsaw, July 8, 2016, https://www.consilium.europa.eu/media/21481/nato-eu-declaration-8-july-en-final.pdf.
Download the publication to keep reading.