Senior Course 135 Field Study: New York
07 Oct. 2019
|
Last updated: 07 Oct. 2019 14:19
Members of Senior Course 135 continued their Transatlantic Link Field Study with a visit to New York City for engagements at the Council on Foreign Relations and the United Nations.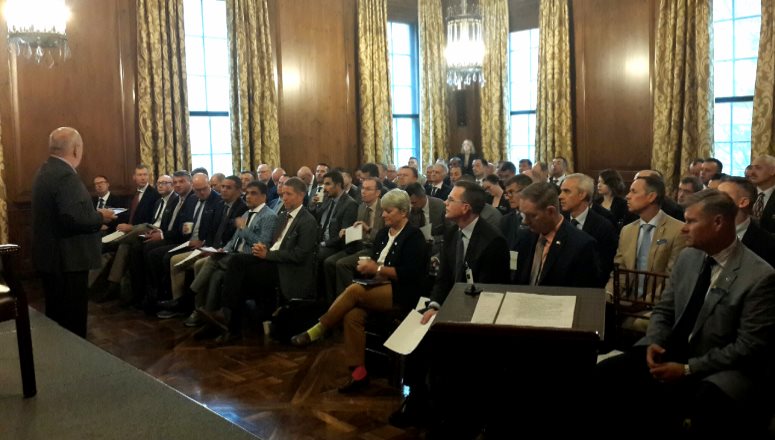 The Council on Foreign Relations (CFR) provided an excellent forum to discuss key subjects within the global security environment. Founded in 1921, the CFR is an independent non-partisan membership organization, think tank, publisher and educational organization. The council provided two of their top research fellows to interact with Course Members.
Dr. Elizabeth Economy, the C.V. Starr senior fellow and director for Asia studies at the Council on Foreign Affairs, began the session by outlining significant shifts in how China sees and realizes governmental power. Considering these points, she further explained U.S. foreign policy responses to China and the U.S./China relationship.
Following this discussion, Dr. Thomas Graham, a distinguished fellow at CFR, outlined his views on Russian and Eurasian Affairs. Considered a leader on his field, he is the cofounder of the Russian, East European, and Eurasian Studies program at Yale University. He provided Course Members with a candid depiction of Russian strategy, national interests and explained recent foreign policy decisions.
Course Members greatly benefited from the opportunity to engage with both fellows and gained a better appreciation for two of the top subjects within the Alliance.
Following up on the International Organizations curriculum presented prior to the Field Study, Course Members then visited the United Nations to gain a better understanding of this strategic organization.
Mr. Alexandre Zouev, the Assistant Secretary General for Rule of Law and Security Institutions in the Department of Peacekeeping Operations, provided an insightful review of U.N. peacekeeping operations from a political/diplomatic lens. Then, BGen El Hadji Babacar Faye from the Senegalese Army provided his observations on the subject from a military perspective.
Course Members concluded their visit to the U.N. with a very insightful engagement with Mrs. Karen van Vlierberge, who for past two years has served as the Deputy Permanent Representative of Belgium to the United Nations. She gave an outstanding perspective of the inner workings of the Security Council and how 'the business' of the U.N. is accomplished.
Course Members conclude their visit to New York with valuable insights and a deeper understanding of strategic concepts that will well benefit them in future assignments.