New RD Publication: NATO at 70: what defence policy and planning priorities?
05 Nov. 2019
|
Last updated: 05 Nov. 2019 15:42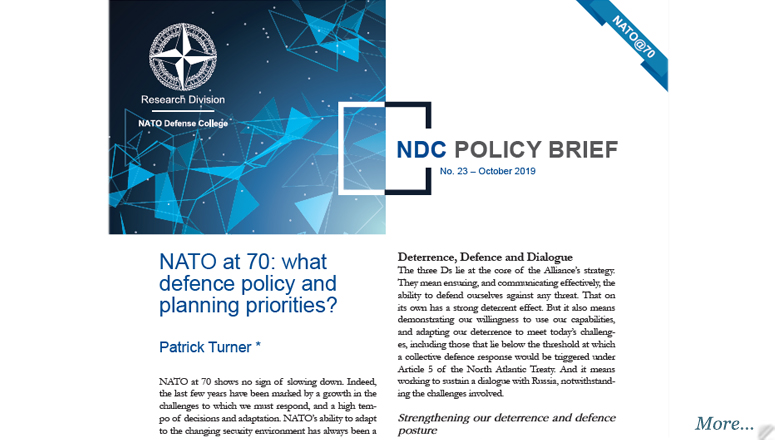 NATO at 70 shows no sign of slowing down. Indeed, the last few years have been marked by a growth in the challenges to which we must respond, and a high tempo of decisions and adaptation. NATO's ability to adapt to the changing security environment has always been a core strength – but this ability has been and will continue to be put to the test.
In the last five years, since Russia's illegal annexation of Crimea and intervention in Eastern Ukraine in 2014, NATO has been going back to basics. Its core purpose of defending Allies has come back to the fore. But not to the exclusion of other tasks and priorities such as: NATO's operations and missions, for example in Afghanistan, Kosovo and Iraq; our broader contributions to the international fight against terrorism; or our work to build partner capacity.
This Policy Brief focuses on NATO's efforts to strengthen its defence posture. The NATO shorthand for our efforts to improve our collective defence is deterrence, defence and dialogue (the "three Ds"). These are underpinned by responsiveness, readiness and reinforcement (the "three Rs"), as well as strengthened national resilience to attack. More investment and commitment by non-US Allies in line with the Defence Investment Pledge agreed at the NATO Summit in Wales in 2014, the shorthand for which is cash, capabilities and contributions (the "three Cs"), provides the crucial enablers for the three Ds and the three Rs.
*(back) Assistant Secretary General for Defence Policy and Planning, NATO.
The views expressed in this NDC Policy Brief are the responsibility of the author and do not necessarily reflect the opinions of the NATO Defense College or NATO.

Download the publication to keep reading.