The first External Modular Short Course at the NATO Defense College successfully completed
21 Nov. 2019
|
Last updated: 22 Nov. 2019 14:27
From 18 to 22 November 2019, the Modular Short Course (MSC 135-4) entitled "NATO 360 degrees" was run at the NATO Defense College. At the same time, a separate group of 7 met for 3 days of MSC-E 135-4 (E stands for external, using e-Learning technology) at HQ in Brussels.
MSC 135-4, in fact, was simultaneously executed in Rome and in Brussels, where COL Ludo Dufour, NDC Faculty Adviser, coordinated the 7 participants. In Rome, MSC 135-4 was attended by 21 participants from 12 countries, supervised by COL Ian Hope, COL Sylvain Curtenaz and Dr Maria Grazia Romano.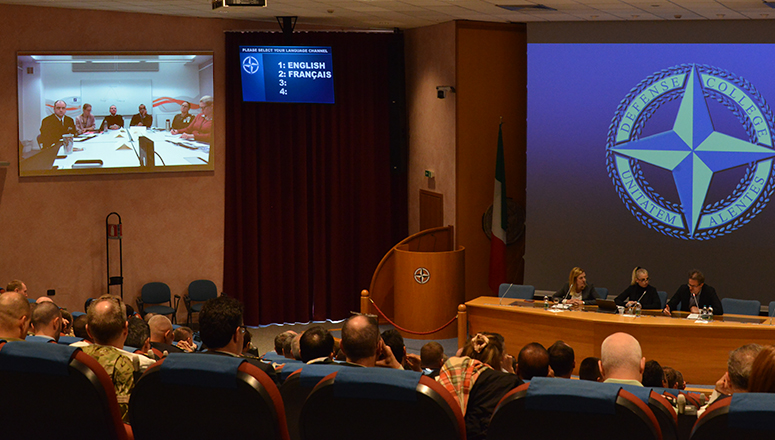 The e-Learning course enables high-level lectures from the NDC to be virtually attended by participants who cannot enroll in the more traditional course in Rome. E-Learning is set to become an important tool for the NDC's academic activities, and to support and modernize the NDC's learning environment. E-Learning courses ensure the same high quality standards as the Rome-based courses, but with participants following on screen, coordinated by a Faculty Adviser present there.
On Monday, participants in Rome were welcomed by NDC Commandant LGEN Chris Whitecross, who presented Senior Course 135's "Russia Seminar".
On Tuesday 19 November, MSC-E 135-4 was opened by NDC Dean Dr Stephen Mariano, who introduced participants in Brussels, via streaming, to the first e-Learning Course run from the NDC.
On Wednesday, participants in Rome and in Brussels followed lectures on the "Western Balkans" by Mr Gerald Knaus and Dr Marilena Koppa. The next day, the topic of the presentations given by Dr Jeffrey Mankoff and Dr Fraiz Ismailzade was the "Black Sea region". In the afternoon, MSC-E 135-4 ended in Brussels, after discussing the outcomes of the first experimental external e-Learning Modular Short Course.
On Friday, lectures on "The Northern Region Including the Arctic", by Dr Andrea Charron and Mr Svein Efjestad, will conclude MSC 135-4.