Graduation Ceremony of Senior Course 135
31 Jan. 2020
|
Last updated: 13 Feb. 2020 11:12
On Friday 31st January, the NATO Defense College (NDC) celebrated the graduation of Senior Course 135 (SC 135), composed of 75 high-ranking officers and senior civil servants from 30 NATO and Partner countries, coming together for the last time to celebrate the conclusion of the Senior Course.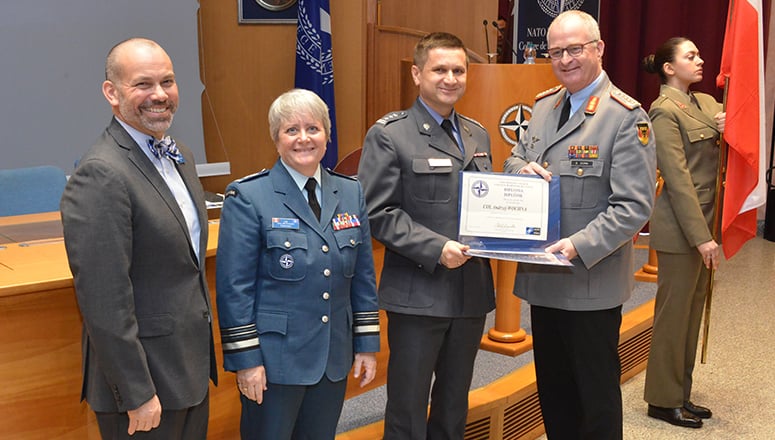 The event was attended by Ambassadors, Defence Attachés, authorities of the Italian Armed Forces, SC135 family members and NDC staff. The guest of honour of SC 135's Graduation Ceremony was the German Chief of Defence, General Eberhard Zorn, who made his entrance to the Maynard-Thorn Auditorium accompanied by NDC Commandant Lieutenant General Chris Whitecross.
After the welcome address to the distinguished audience, LGEN Whitecross congratulated all the Course Members for having successfully completed five months of intensive and demanding studies. During her speech, the Commandant stressed the importance of the Senior Course in order to equip the Course Members to manage diversity in a multinational environment, with better cultural awareness and an enhanced ability to communicate and to negotiate.
Then, the Chief of Defence of Germany underlined the relevance that NDC has for training senior officers who will able to face NATO's future challenges and threats.
A key moment in the ceremony was the announcement of the winner of the Eisenhower Prize for the best Study Project, which was awarded to Committee 7.
The 75 SC 135 Course Members filed through the Maynard-Thorn Auditorium for the last time, saluting their respective national flags and Flag Officers, before receiving their graduation diplomas from General Zorn, Lieutenant General Whitecross and NDC Dean Dr Mariano.