Senior Course 136 Committee Study Project Presentations
07 Jul. 2020
|
Last updated: 07 Jul. 2020 09:19
On 2 and 3 July 2020, Senior Course 136 Committee Study Project (CSP) Presentations took place at the NATO Defense College, in an event that combined online and physical presence with a new important role given to sponsors.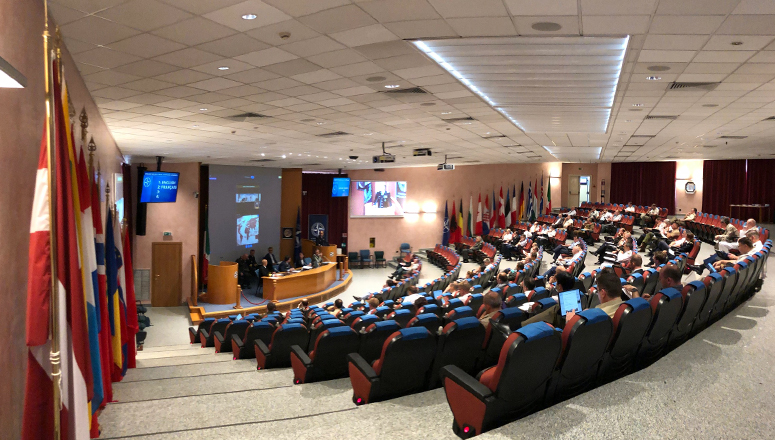 The NDC Auditorium once again witnessed one of the most important events of the Senior Course, the Committee Study Project presentations. In line with current COVID times, people attending the presentations were both online and physically in the Auditorium. The eight committees presented their projects, divided into four presentations each day on different NATO-related topics. The topics are very broad, for instance: NATO's future role in crisis management; NATO and projecting stability; and NATO's counter-terrorism agenda.
On-line guests were Major General Gijs Van Keulen Director Operations and Planning International Military Staff, and Ambassador Baiba Braže, Assistant Secretary General for Public Diplomacy, who connected online from Brussels HQ to provide their comments on the presentations, as well as encourage Course Members to keep up networking with other Course Members, as this will be of great benefit in the future.
A new feature of this year's CSPs was for each Committee to be assigned not only a mentor, but also a project sponsor who provided feedback and gave greater visibility to CMs' work.
The Study Project is one of the highlights of the Senior Course in which Course Members must reach consensus on a NATO-related topic. The resulting project is then presented in the main Auditorium in front of all other CMs and guests, over two very enriching days.