Senior Course 116 Field Study on the Transatlantic Link; the United Nations, New York City.
27 Apr. 2010
|
Last updated: 10 Oct. 2017 13:26
The last stop on the Senior Course 116 Spring Field Study to the United States (US) was a visit to the home of the United Nations (UN) Headquarters, New York City. Course Members benefited from a series of high level security and defense briefings addressing the future challenges of UN peacekeeping operations and prospects for greater UN-NATO cooperation.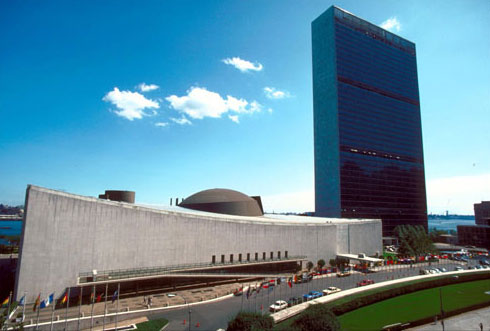 Following an introduction to the Command and Control structure of the Department of Peacekeeping Operations offered by NATO's senior liaison officer to the UN, Colonel Paul van der Heijden, Ms. Jennifer Brumlett Price of the Counter Terrorism Committee's Executive Directorate explained the political challenges associated with defining "terrorism" and the evolution of UN engagement in counter terrorism initiatives, including the important milestones of UN Security Council Resolution 1373 (2001) and the 2006 UN Global Strategy to Counter Terrorism.
The Deputy Military Advisor in the Department of Peacekeeping Operations, Major General Abhijit Guha, followed with a comprehensive discussion of five key challenges facing UN peacekeeping and the important role of the New Horizon initiative in addressing them. Course Members also had the privilege to field a wide range of questions to this senior UN officer. The day concluded with a frank and informative panel discussion with military advisors of the Permanent Members of the UN Security Council.
After the visit to the US hosted impeccably by the US Marine Corps, the Senior Course headed to Brussels for visits to NATO Headquarters, the European Union and national defense authorities.