The NDC Hosts the Generals, Flag Officers and Ambassadors' Course (GFOAC)
12 Nov. 2012
|
Last updated: 31 Aug. 2015 16:19
From 5th to 9th November the NATO Defense College (NDC) had the great honour of hosting the Generals, Flag Officers and Ambassadors' Course (GFOAC): 35 distinguished participants from 25 different countries were warmly welcomed at the start of the week by NDC Commandant Lieutenant General Arne Bård Dalhaug.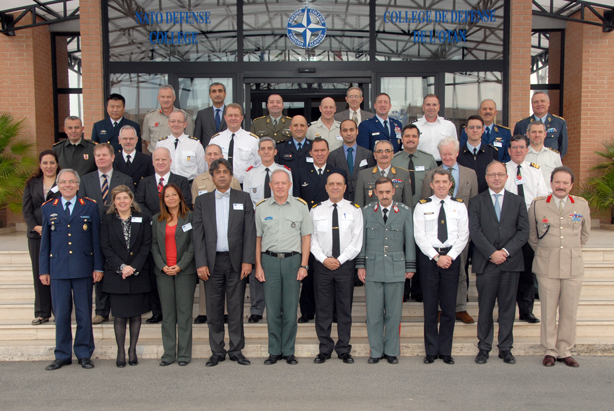 The Course was attended by Generals, Flag Officers, Ambassadors and other high-ranking civilians from countries within NATO, the Partnership for Peace, the Mediterranean Dialogue and the Istanbul Cooperation Initiative, as well as from Contact Countries and Iraq. In addition, the College took particular pride in welcoming to this edition of the Course, for the first time ever, a representative from the People's Republic of China.
Designed to provide senior leaders with an environment that promotes discussion and reflection on critical security and defence issues through academic lectures by authoritative speakers, the GFOAC also aims to facilitate group discussion and social interaction among Course Members. This format not only provides a firm basis for mutual understanding, but also enhances awareness of NATO's security concerns in relation to its interests and capabilities.
The theme of this year's programme was "NATO: Defence and Security in an Age of Austerity", focusing on the challenges that the Alliance faces in the current financial downturn and on emerging trends likely to become increasingly important for NATO members and partner countries.
Course Members were able to take advantage of a solid theoretical approach provided by academics, practitioners and experienced diplomats, who presented major strategic issues and practical perspectives following the adoption of the 2010 Strategic Concept in Lisbon and the discussions at this year's Chicago Summit. The programme gave ample scope for evaluation of the NATO-led operation in Libya and ongoing combat operations in Afghanistan, in relation to current economic and budgetary pressures: implications for the future strategic environment and for NATO were examined in great detail, with particular reference to the associated challenges for military and civilian policy-makers.
Throughout the week participants were able to take full advantage of the Q&A sessions and of the academic freedom policy at the NDC, allowing them to ask the lecturers for in-depth analyses and opinions.