Visit by the Senior Course on Security and Defense Studies of the Albanian Defense Academy
16 Nov. 2012
|
Last updated: 10 Oct. 2017 13:24
On 14 November 2012, a delegation from the Senior Course on Security and Defense Studies of the Albanian Defense Academy (ADA) visited the NATO Defense College (NDC).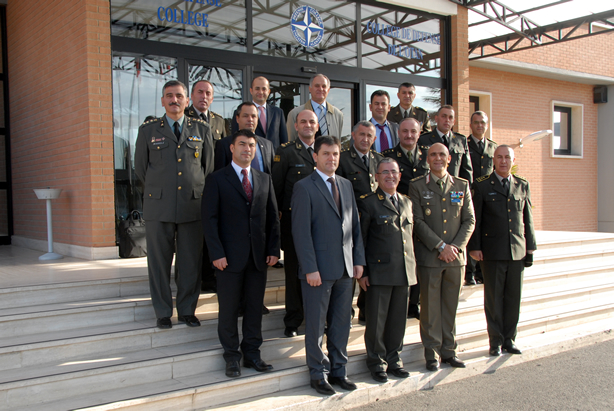 The Albanian delegation was led by ADA Commander Brigadier General Bardhyl Hoxhawill, from the Albanian Training and Doctrine Command (TRADOC). On arrival, the group was warmly welcomed by NDC Commandant Lieutenant General Arne Bårn Dalhaug (NOR A).
During the morning the delegation was briefed about the NDC's mission and structure, with an overview of its educational and research activities, by Director of Academic Operations Brigadier General Patrick Desjardins (FRA F). One point focused on was the policy of maintaining a balance between Course Members from NATO and non-NATO countries in terms of course planning and related funding arrangements.
Dr Karl-Heinz Kamp, Head of the NDC Research Division, was the second speaker of the day. His engaging lecture, entitled "The impact of economic crises on national security", was greatly appreciated and fostered an excellent Q&A session.
The visit of the Albanian delegation to the NDC is part of a Field Study period that the Albanian Defense Academy includes in its Senior Course on Security and Defense Studies, in order to give Course Members practical insight into the work of the North Atlantic Treaty Organization.