New Research Division Publication
06 May. 2013
|
Last updated: 10 Oct. 2017 13:26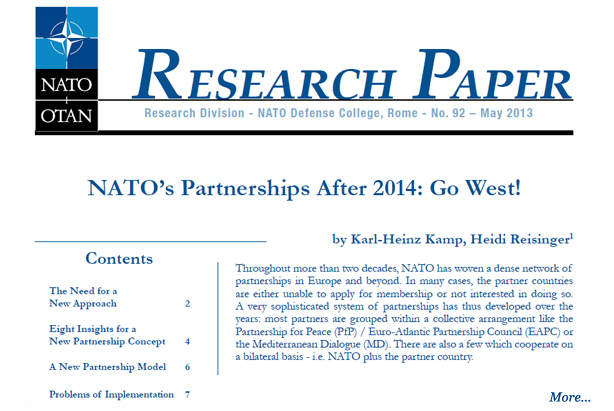 Today no other topic is as important and widely acknowledged, but at the same time as controversial and inadequately addressed, as NATO's partnership policy.
NATO's policy of establishing close partnerships with a broad spectrum of outside countries has been a true success story. The Alliance has received active support from partners in its missions in Afghanistan and the Balkans, and has become an active player in regions far beyond its own borders. However, to remain relevant in the post-ISAF world, a fundamental political shift of NATO's partnership policy seems inevitable. Instead of grouping partner countries according to geographical criteria – like the Partnership for Peace (PfP) programme or the Mediterranean Dialogue (MD) – and offering special relationships to countries which are not always so close to the Alliance, what should determine the intensity of cooperation is the level of engagement with politically like-minded and operationally close partner countries.
As a substitute for today's host of different partnership fora (EAPC, MD, ICI, NATO-Ukraine Commission, NATO-Georgia Council), just three concentric circles should exist politically around NATO member states. First, the Advanced Partners – NATO's partners of choice – would constitute the closest circle around the Alliance, consisting of those countries which contribute significantly to NATO's activities and are fully fledged Western-style democracies. These countries should be included in NATO's procedures and decision-shaping on a regular basis – and, in exceptional cases, even in its decision-making.
The second group would be the Cooperation Partners, countries which work together with NATO for mutual benefit in certain areas of common concern. Contributions to NATO operations would be desirable but not indispensable. The third circle would consist of the Dialogue Countries, nations which have an interest in an exchange with NATO, but where the level of cooperation still has to be assessed.
This proposal is described in greater detail in the latest Research Paper from the NATO Defense College, "NATO's Partnerships After 2014: Go West!"