NATO Defense College Senior Course 124: Field Study I - European Perspectives
26 Mar. 2014
|
Last updated: 10 Oct. 2017 13:26
On Monday 24 March 2014, Senior Course 124 (SC 124) began its European Perspectives Field Study. This key aspect of the academic curriculum of the Senior Course allows Course Members to acquire a strategic appreciation of major political, economic and security issues as seen from the national perspectives of selected NATO countries. The Field Study also offers participants direct insight into the ways in which policies contribute to Euro-Atlantic security. Over the next two weeks SC 124 will have a very full programme of institutional visits and briefings in Albania, Germany, United Kingdom, France and Italy.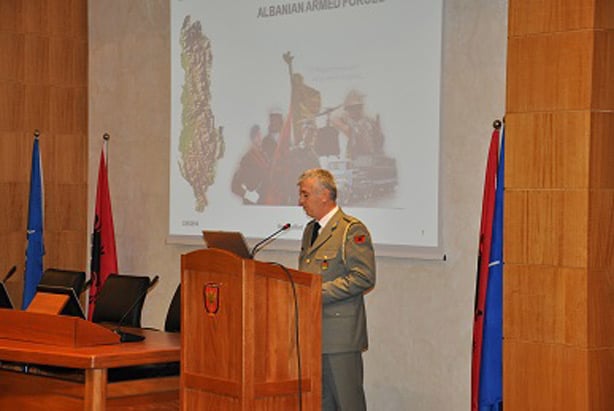 The first stop on the Field Study tour was Tirana, the capital city of the Republic of Albania, one of NATO's newest members. The Senior Course, headed by Brigadier General Desjardins, Director of Academic Operations, was welcomed to the Training and Doctrine Centre (TRADOC) by Colonel Rzhdi Kuçi, Commander of the Centre. In his welcome address he emphasised the importance of continued cooperation with NATO and of remaining interoperable with Allies.
Colonel Idriz Haxhia, Chief of J3 in the General Staff, gave an overview of the Albanian Armed Forces, their structure, priorities and challenges. He stressed the importance of ensuring the most effective and interoperable operational capability possible while working within significant financial constraints.
Lieutenant Colonel Ardian Lolai, Head of Group for Strategic Studies, TRADOC, provided a detailed brief on the mission, functions and capabilities of the Training and Doctrine Centre. Of particular note was the success of the Senior Course for Strategic and Defense Studies which was started in 2007 and continues to grow in quality and influence with participation from many nations in the region. It is a fine example of a nation using its limited resources to fill a capability gap in support of the Alliance and regional Allies.
After the briefings the Senior Course was given an interesting tour of the TRADOC facilities and the Military Museum which was recently opened.
Following this excellent and fruitful opening session on Albania, the European Perspectives Field Study will now take SC 124 Course Members to Germany (Berlin).