The NDC hosts the Generals, Flag Officers and Ambassadors' Course – GFOAC 2014-1
16 May. 2014
|
Last updated: 31 Aug. 2015 16:19
From 12 to 16 May 2014, the Generals, Flag Officers and Ambassadors' Course (GFOAC 2014-1) took place at the NATO Defense College (NDC), bringing together 41 high-level civilian and military participants from NATO countries, the Partnership for Peace (PfP), the Mediterranean Dialogue (MD) and the Istanbul Cooperation Initiative (ICI), as well as Global Partners.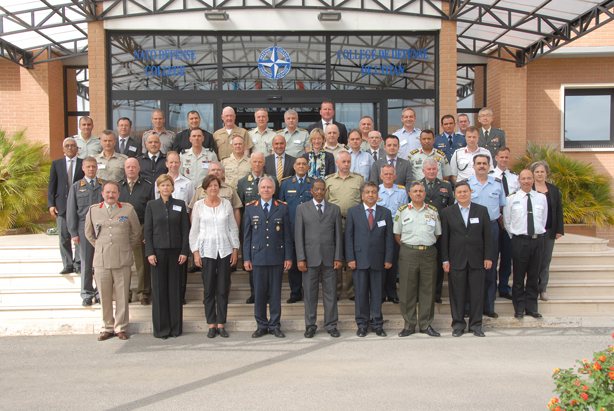 In his welcoming remarks to the Course, entitled "Shifting security paradigms – implications for NATO?", BrigGen Gerd Bischof (DEU F), GFOAC Course Director and Head of the Division of Academic Planning and Policy at the NDC, described both the Course's purpose and content.
The opening lecture by Prof Christopher Coker (GBR) provided a detailed and stimulating focus on "Cultural Dialogue: the Western Encounter with the Rest". The topic of the afternoon lecture delivered by Mr Michael Rühle (NATO/DEU) was "NATO: Beyond the next Summit". In his talk, Mr Rühle gave a brilliant overview of the various challenges facing NATO at the upcoming summit in Wales, and beyond, setting the scene for a most interesting and comprehensive Q&A session.
On Tuesday 13 May, GFOAC Course Members enjoyed two interesting lectures in a panel entitled "The Transatlantic Link: the Cornerstone of the Alliance". The two speakers, Mr Stan Sloan (USA) and Prof Dr Carlo Masala (DEU) briefed the audience on possible future challenges facing the Alliance, highlighting the continuing need for the Transatlantic Link on both sides of the Atlantic. In the afternoon, a motivating lecture on "The Changing Character of Insurgencies and Small Wars" was given by Dr David Kilcullen (AUS).
The next day, the focus of attention moved eastwards with lectures from Prof Fawaz A. Gerges (USA/LEB) and Prof Mustapha Benchenane (FRA), who spoke about "The Middle East and North Africa". During the afternoon, Dr Jonathan Holslag (BEL) delivered a lecture on "The Security Implications of the Rise of China". Later still, in a videoconference with Gen Joseph F. Dunford, the Commander of ISAF candidly described the "Strategic Challenge of NATO's Operation in Afghanistan".
The programme for Thursday 15 May offered a fascinating combination of topics: "Technological Development: Risks and Opportunities", addressed by Prof Dr Holger Mey (DEU), and "Cyber strategy: Old Paradigms meet New Challenges", on which Prof Paul Cornish (GBR) lectured in the early afternoon.
On the last day of the Course, the attention was on "Shifting Security Paradigms: Implications for NATO?" by Robert B. Brannon (USA), Dean of the George C. Marshall Center in Garmisch-Partenkirchen, who gave a frank and personal view of Russia's relationship with the West, in the light of recent developments in Ukraine.
In his closing remarks, BrigGen Bischof summarized key messages from the week's lectures and discussions, thanking all participants for their contribution to the GFOAC; a course which is proving to be increasingly well-attended by high-level participants from a growing number of countries.