Visit of Brazilian delegation to the NDC
26 May. 2014
|
Last updated: 31 Aug. 2015 16:19
On Friday 23 May 2014, the NATO Defense College (NDC) was honoured to host a delegation of security experts from the Federative Republic of Brazil. The distinguished guests included BrigGen Nogueira Guimarães (BRA A), Director of the Centre for Strategic Studies at the Brazilian National War College (ESG); Mr Felix Dane, representative of the Konrad Adenauer Stiftung (KAS) in Brazil; Mr Gregory J. Ryan, Project Coordinator at the KAS office in Brazil; Mr Ramalho da Rocha, Professor of International Relations (IR) at the University of Brasilia; and Mr Marcelo Rafael Rech, a journalist at the Institute of International Affairs and Defence.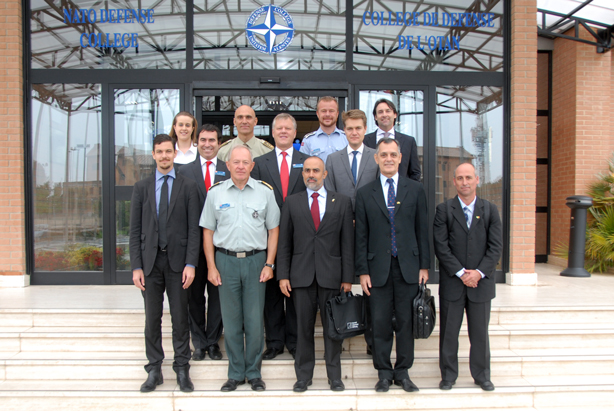 The objective of the visit was to provide an overview of the mission and activities of the NDC, with briefings on the work of various Divisions within the College.
Upon arrival, the Brazilian Delegation was warmly welcomed by LtGen Arne Bård Dalhaug (NOR A), NDC Commandant.
The visit began with a detailed briefing on the Senior Course by BrigGen Gerd Bischof (DEU F), Director Academic Planning and Policy, and continued with a presentation of the Research Division (RD): this joint presentation, by RD Director Dr Jeffrey Larsen and Research Adviser Dr Brooke Smith-Windsor, gave an interesting overview of the Division's main objectives. The session continued with a presentation on the Middle-East Faculty (MEF) by Col Daniel Gillespie (USA F), who briefed the delegation on activities such as the NATO Regional Cooperation Course (NRCC).
A lively question and answer session provided an excellent opportunity for discussion.
During this brief visit, members of the Brazilian delegation were able to appreciate more fully the NDC's role as a premier academic institution not only for NATO, but also for Partner countries in many different regions of the world.