NDC Research Division outreach and support to the NMIOTC's 5th Annual Conference, 24-26 June 2014
26 Jun. 2014
|
Last updated: 10 Oct. 2017 13:28
The NDC Research Division supported the NATO Maritime Interdiction Operational Training Centre (NMIOTC) 5th Annual Conference entitled: "Building a Law Enforcement Culture at sea for a more secure Maritime Environment." Established in 2003, the NMIOTC supports the Alliance's development of maritime interdiction doctrines and naval interoperability through research and education, experimentation, modeling and simulation, and specific training at sea.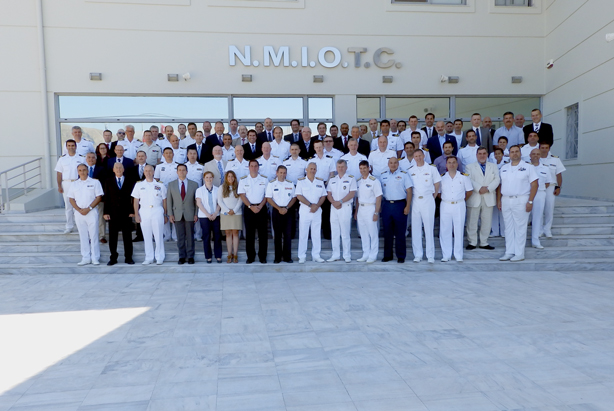 The annual conference represents a unique opportunity for maritime experts from across NATO, partner nations and relevant organizations (e.g. INTERPOL, EU) to share knowledge, expertise and best practices in support of Alliance objectives in the domain of maritime security from the strategic to tactical levels. This year's event attracted over 70 participants from across the Euro-Atlantic area, North Africa, the Gulf region, Brazil and South Africa.
The conference was opened by the Chief of the Hellenic Navy, Vice Admiral Evangelos APOSTOLAKIS, and the NMIOTC Commandant, Commodore Ioannis PAVLOPOULOS (GR N).] Following interventions by Rear Admiral Eugenio Diaz Del RIO (ESP N), Commander Standing NATO Maritime Group (SNMG) 2, and Commodore Dan MACKEIGAN (CAN N), NATO Maritime Command (MARCOM) Deputy Chief of Staff (Plans), the NDC's maritime strategic analyst, Dr Brooke SMITH-WINDSOR, offered a comprehensive lecture on the "UN, NATO and the Legitimacy of Allied Maritime Engagement" from the early 1990s to the present day. Lively discussion periods ensued with questions addressing Alliance Maritime Strategy, revitalizing the SNMGs, the lessons learned from Operation Unified Protector in Libya, as well as expectations for Allied naval forces following the NATO Wales Summit. Commodore PAVLOPOULOS thanked Dr SMITH-WINDSOR and the NDC for supporting this growing annual event and looks forward to continued opportunities for partnership in research, outreach and education. Subsequent conference panels addressed the political and legal issues surrounding counter-piracy operations, maritime critical infrastructure protection (e.g. oil platforms, undersea cables), transnational maritime crime (e.g. oil bunkering, human and drug trafficking), international territorial disputes, as well as the African Union Integrated Maritime Strategy.