The Commander of the Canadian Forces Intelligence Command and Chief of Defence Intelligence visits the NATO Defense College
01 Jul. 2014
|
Last updated: 10 Oct. 2017 13:28
On Tuesday 1 July 2014, the NATO Defense College (NDC) was honoured to host a delegation from the Canadian Forces Intelligence Command (CF INTCOM), led by MGen Christian Rousseau (CAN A), Commander Canadian Forces Intelligence Command (CF INTCOM) and Chief of Defence Intelligence (CDI).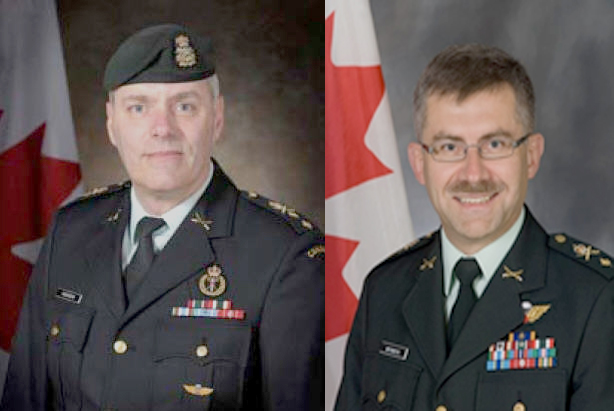 Upon arrival, the delegation, which also included MGen Paul Wynnyk (CAN A), Deputy Commander Canadian Army and CF INTCOM/CDI designate, was warmly welcomed by LtGen Arne Bård Dalhaug (NOR A), NDC Commandant.
The objective of the visit was to provide an overview of the mission and activities of the NDC.
The visit began with a detailed briefing on the College by the Canadian Senior Representative, Capt Brent Hopkins (CAN N). His presentation, attended also by Canadian Course Member Capt Shawn Osborne (CAN N), focused mainly on the NDC's mission, but also provided information on the objectives and main features of College courses. The briefing and the discussion that surrounded it were very well received and left the visitors with a solid understanding of the role and value of the college.
Capt Hopkins and Capt Osborne then escorted the delegation for a tour of the College.
During the course of the visit, the Canadian delegation gained considerable insight into the NDC's role as NATO's premier academic institution.