Senior Course 124 conducts a Crisis Management Exercise/ Negotiation, Mediation and Decision-Making Exercise (CMX/NMDX)
08 Jul. 2014
|
Last updated: 10 Oct. 2017 13:28
On Monday 7 July 2014, Members of SC124 received lectures on the changing nature of Crisis Management, the NATO Crisis Management System, and International and Multilateral Negotiations. These lectures will be followed by a new Crisis Management Exercise/ Negotiation, Mediation and Decision-Making Exercise (CMX/NMDX).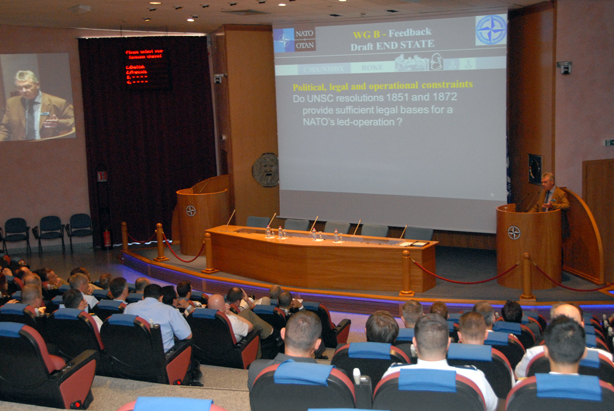 Mr Edmund Whiteside (CAN), NATO Deputy Assistant Secretary General for Public Diplomacy, provided the first lecture on the media side of crisis management, by analysing some interesting case studies.
Mr Ilay Ferrier (GBR), former Director of Crisis Management in the Operations Division at NATO HQ, explained how the NATO Crisis Management Process works and the roles of the different bodies involved. He also stressed the importance of the Comprehensive Approach.
Later, Mr Anthony Cragg (GBR), former NATO Assistant Secretary General for Defence Planning and Policy, gave a presentation on the decision-taking mechanisms in NATO, and outlined some of the options available to influence the development of a crisis.
An informative Question and Answer Session with the speakers followed, after which Course Members split up into their Working Groups for the rest of the week.
During the exercise, which started on Tuesday, Course Members will be representing members of several senior NATO committees or groups, including the Political and Partnerships Committee (PPC), an International Military Staff Working Group (IMSWG), the Operations Policy Committee (OPC) and the North Atlantic Council (NAC). Individual Course Members play various official roles, including that of NATO Secretary General and Chairman of the International Military Staff, or act as representatives of individual NATO Nations, including as Permanent Representatives in the North Atlantic Council.
The exercise scenario is a generic one. Course Members participate in the various stages of a simulated NATO Crisis Management Process and practise negotiation, mediation and decision-making techniques. They learn about group dynamics in a multinational negotiation format and follow a complex process of multilateral consensus-building, in order to decide on a common course of action. NATO's senior-level committees and the North Atlantic Council provide the ideal framework for this exercise, reflecting the strategic political-military level at which the Senior Course is focused.
Throughout the exercise, the Senior Mentors give valuable advice and feedback to Course Members. The Faculty Advisers are also actively involved, by playing the role of capitals, and giving instructions to their Permanent Representatives to adjust their national positions if necessary. The CMX/NMDX is an intellectually challenging and suitable conclusion to the academic programme of Senior Course 124.