New Research Division Publication: "Semantics Matter - NATO, Cyberspace and Future Threats"
18 Jul. 2014
|
Last updated: 10 Oct. 2017 13:26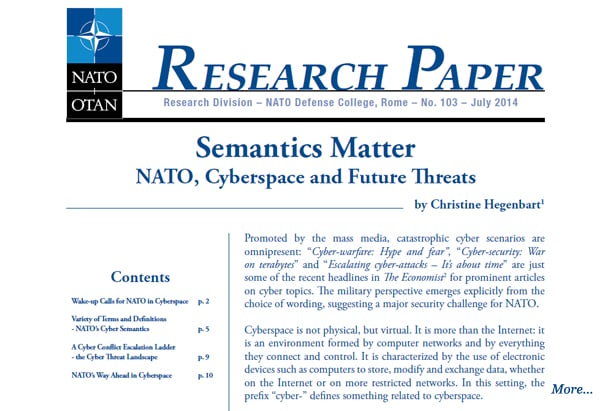 Following the Cyber-attacks against Estonia in 2007, NATO decided to adopt a policy on Cyber Defence at the Bucharest Summit in 2008 which led to the establishment of the Cyber Centre of Excellence in Tallinn (Estonia). Since then, the cyber issue has not disappeared, as the media and best-selling books suggest that cyber is a new way to wage war. As more and more states are getting concerned by what could be seen as either a new threat or merely hype, NATO's member states have continued to work on improving their own cyberspace security and that of the Alliance as a whole, and mitigating their potential weaknesses. However, as cyber seems to be a new battlefield, it has to be carefully defined, and understood.
This new Research paper by the NDC Research Division considers a domain which is seldom addressed: the semantics of cyber security. Providing a sober, precise explanation of what cyber is, and what cyber threats look like, Christine Hegenbart advocates the use of a common narrative avoiding flamboyant gestures to carefully analyse, and henceforth respond to, a new type of conflict. By getting the semantics right, de-escalation of potential conflicts and threats coming from cyberspace would be easier. Common language fosters a common mindset and can help create interoperability: we can only fight efficiently together when we realize we share a common identifiable threat.
Dr Jeffrey Larsen, Division Head Research