New Research Division Publication: "Assisting Host Country Militaries - Assessing Lessons from NATO, EU, and Member State Experience"
31 Jul. 2014
|
Last updated: 10 Oct. 2017 13:26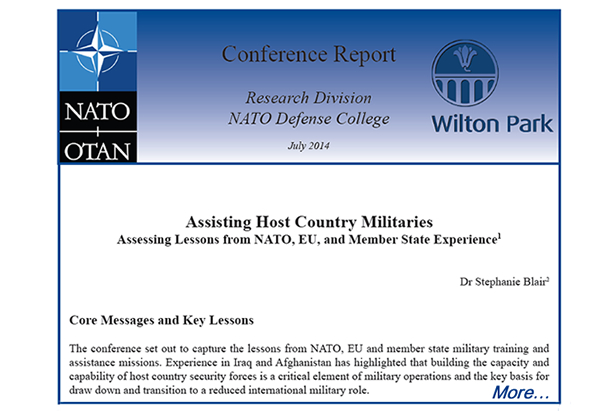 In September 2014, the NATO Summit will look to the future as the Alliance transitions from more than a decade of high operational tempo in places like Afghanistan. A focus on capacity building in crisis prone regions rather than direct interventions will likely figure high on the agenda. The establishment of a NATO Security Force Assistance (SFA) capability centred on training and education could be part of this approach. SFA could be a means to curb conflict by empowering local actors to address potential threats in their neighbourhood before they develop into violence. In many respects, places like Iraq and Afghanistan for NATO, and Mali and Somalia for the EU, have been test beds for aspects of a SFA capability. This Wilton Park and NDC Conference Report takes them into account as it explores the requirements to launch a fully-fledged SFA mission as part of a comprehensive approach to crisis management.
Dr Jeffrey Larsen, Division Head Research