New NDC Publication: Vox Collegii Magazine Volume IX
18 Aug. 2014
|
Last updated: 10 Oct. 2017 13:28
Vox Collegii Magazine Volume IX, by the NATO Defense College.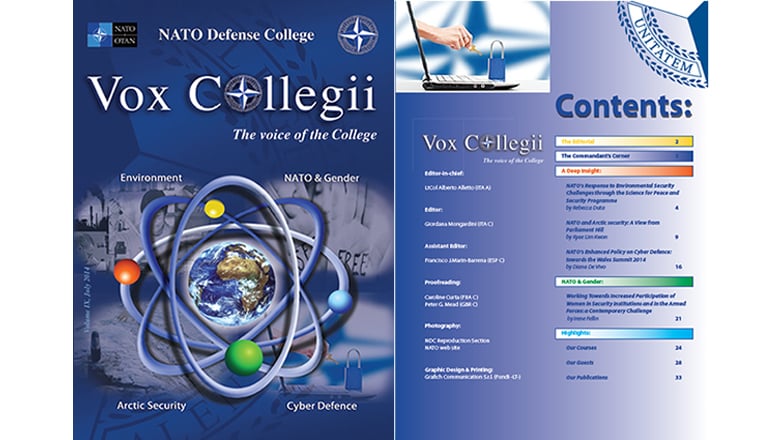 The NATO Defense College proudly announces the ninth issue of the twice-yearly College magazine. Readers will find plenty of very interesting material in this new issue of Vox Collegii, as we once again live up to the expectations we have created by refusing to rest on our laurels and by offering cutting-edge contributions on highly topical questions. We are grateful to all of you for your continuing support, and your positive feedback on our efforts is a source of great pleasure.
Since we last went to press, in January, there have been a few changes here at the College and many exciting events have marked this period, promoting the Alliance's mission of outreach and cooperation with other nations and organizations.
One of the highlights of recent months was International Kyiv Week, which we organize every year in conjunction with the National Defence University of Ukraine (UNDU), and the support of the NATO School Oberammergau (NSO). The event first took place in 2001, with the aim of broadening knowledge of NATO's mission, the challenges it faces, and the partnership between Ukraine and NATO. In view of recent events in Ukraine, this year's Kyiv Week, from 7 to 11 May 2014, was even more valuable and unique than on former occasions.
A second major event was the conference in Vancouver on 15-16 May, jointly organized with the Simon Fraser University (SFU). The theme of the event was the implications for NATO of the US rebalance to the Asia-Pacific region, with a special focus on the Alliance's partnerships with Australia, Japan, New Zealand and South Korea. Once again, the NDC Research Division provided a most impressive platform for high-profile outreach activities.
Last but not least, the 43rd Conference of Commandants (CoC) of Defence Academies and Institutes was held from 26 to 28 May, at the Carol I National Defence University (NDU-R) in Bucharest. The theme of this year's Conference, involving NATO nations and many Partner countries, was "Connected Forces through Connected Education: Harnessing NATO's and Partner Nations' Strategic Educational Resources".
Moving on to the magazine, you will see that this issue is marked by innovation and modernity. This time, the choice of articles pertains to environmental issues, focusing specifically on Arctic security and NATO's response to environmental challenges – themes which readers will surely find relevant as we face an acceleration of global warming. A different kind of security is analysed in an article on NATO cyber defence and the preparation of the Wales Summit. As usual, the section on Women and Gender is well represented with a new article in a series about the implementation of UN Security Council Resolution 1325, on women's equality and rights, underlining the important role of women internationally.
Finally, we are all deeply and sincerely grateful to the NDC Commandant LtGen Dalhaug, whose mandate at the College came to an end in late July. On behalf of all NDC staff, a big thank you for his leadership over the last three years, and an enthusiastic welcome to the new Commandant, MajGen Bojarski of the Polish Armed Forces, who joins us after a four-year mandate as Poland's Military Representative to NATO.