Inauguration of Senior Course 125
02 Sep. 2014
|
Last updated: 10 Oct. 2017 13:26
This week the NATO Defense College welcomes Senior Course 125 (SC 125), which brings together 68 Course Members from a total of 27 countries. These include not only NATO member states, but also countries within the Partnership for Peace (PfP), the Mediterranean Dialogue (MD) and the Istanbul Cooperation Initiative (ICI), as well as two Global Partners (Mongolia and Pakistan).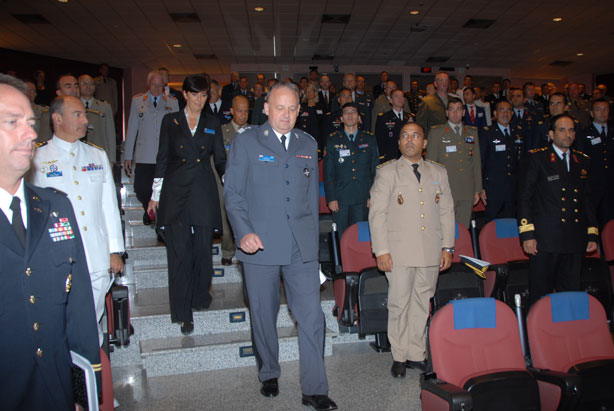 The inauguration of SC 125 took place on 2 September, in the Maynard-Thorn Auditorium at the NDC. In welcoming all participants, newly appointed NDC Commandant Major General Janusz BOJARSKI (POL F) spoke briefly about the imminent NATO Summit, to be held on 4-5 September in Wales. Courses at the College will surely be influenced by decisions that are going to be taken at the Summit, priorities of which will include NATO's long-term relationship with Russia and support for the Afghan government in the years ahead. The Commandant also mentioned the next Conference of Commandants of Alliance Defence Colleges (CoC), to be held in Vienna in June 2015, an essential forum for cooperation between colleges in NATO member countries and Partner nations.
NDC Dean Dr Daria DANIELS SKODNIK then took the floor, introducing Course Members to the unique features of the NDC and of the Senior Course.
Following the inaugural speeches, the various College departments and the Course programme and curriculum were introduced by the Heads of Division and Faculty Advisors.
During the coming months, Course Members will gain a more detailed understanding of international affairs and politico-military relations, the international security-related issues affecting NATO, as well as regional and global perspectives. The curriculum will also cover subjects such as climate change, natural resource management and security, demographic trends, cyber defence, as well as future trends in warfare technology.
The format for Senior Courses is comprised of academic briefings on current challenges, given by invited lecturers, and in-depth discussions which afford an excellent opportunity for participants to hone their skills in critical analysis.
SC125 will also include brief visits to key institutions in a number of Alliance and Partner nations, as well as to NATO HQ, the two Strategic Commands and the United Nations.