SC 125 European Security Perspectives Field Study – Amsterdam
03 Oct. 2014
|
Last updated: 31 Aug. 2015 16:19
NATO Defence College (NDC) Senior Course 125 (SC125) arrived in the Amsterdam on 1st October 2014 at their second stop on the 'European Security Perspectives' Field Study to gain greater understanding on the Netherlands' approach to Security and Defence.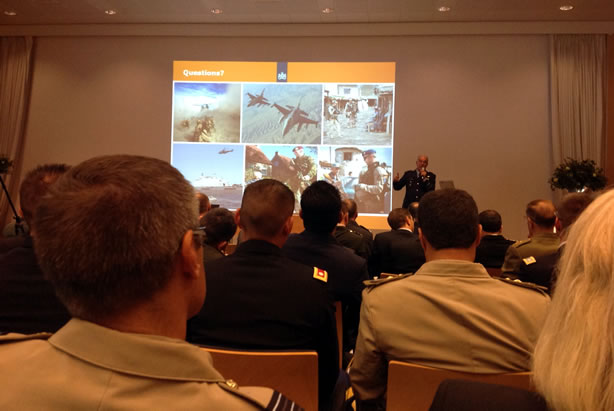 After a short overnight stay, SC 125 was hosted in Amsterdam's Naval Yard Naval facilities with a history dating back over 400 years. This will be the last time that the NDC will be hosted in this facility as it is set to close as part of the Netherlands' Defence reforms. NDC is looking forward to visiting new facilities when next time in Amsterdam.
The day-long briefing Programme was introduced by the Vice Chief of Defence Staff (VCDS) for the Netherlands Armed Forces who gave a précis of the new Dutch Defence structure, a capability overview of each Service, how the Netherlands is embracing SMART Defence and a detailed account of National Constitutional decision making processes which underpin the authorization to employ Defence asserts, both internally and abroad. There followed a question and answer session where Course Members were provided with in depth answers to searching questions. This candid exchange was very much appreciated by Course Members and especially the time given by VCDS during a busy period on the World stage.
Subsequent presenters covered a range of subjects. Dutch International Security Policy and Strategy highlighted the importance of World trade for both National and Global economics with the increasing importance of Information and Cyber Warfare to protect established trade protocols.
The loss of MH 70 over Ukraine was discussed and it's impact on Dutch public opinion, it is true to say that Defence interests have risen in people's awareness since this tragic event causing a shock to the Air Travel industry and undermining the freedom of the global population to safely travel the World.
International cooperation is a cornerstone of Dutch Defence policy and this commitment to support NATO has been reinforced by a public statement to procure the F35 Joint Strike Fighter. This considerable commitment will permit the Royal Netherlands Air Force to be fully integrated with other NATO partners in highly contested airspace requiring the deployment of cutting edge and battle winning technologies. Additional initiatives include combining capabilities with Belgium in the maritime domain to reap increased efficiencies that avoid support duplication and contributing land forces to a German led armoured formation. These innovative commitments enshrine the outcomes announced at NATO's recent Wales Summit. Such 'pooling and sharing' initiatives prove that smaller countries in NATO can offer a disproportionate contribution to the Alliance when efforts are combined and coordinated to increase efficiency and overall combat effectiveness. A statement was made that closer cooperation between Europe's Defence industries is urgently required to generate increased efficiencies from the investment of considerable public resources.
After a day of thought provoking presentations and a short reception, there was still some of the evening remaining for SC 125 to experience the cultural vista among Amsterdam's beautiful canals, stunning architecture and welcoming populous. Stay tuned for the next posting as SC 125's Field Study moves on.