SC 125 European Security Perspectives Field Study – London
11 Oct. 2014
|
Last updated: 31 Aug. 2015 16:19
Traveling from Paris by Eurostar train, Senior Course 125 (SC125) arrived in London during the early evening on 6th October 2014. The Committees quickly changed and enjoyed the delights of the United Kingdom's capital city. The next morning SC125 visited the Ministry of Defence for a full morning of briefings and Question and Answer sessions.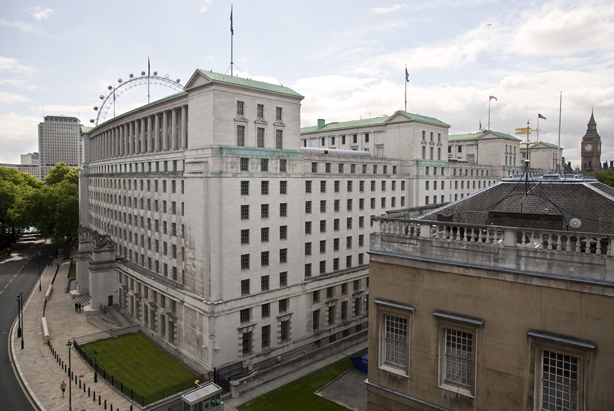 The morning was introduced by the Vice Chief of Defence Staff who reinforced the importance of NATO to UK Defence policy highlighting that the UK has placed the Alliance at the very centre of Its Defence priorities. VCDS also stated that in a interconnected and fast changing World education was the intellectual bedrock for future military leaders to be able to quickly adapt and appropriately respond to crisis noting that the military lever of power has to be coherently embedded within all the levers of power to evolve a comprehensive and effective strategy. He also highlighted the unique opportunity offered by the NATO Defence College through bringing both NATO members and partners together in an academic environment, thus creating the circumstances to gain an in depth knowledge and national perspectives from the 27 different countries represented on the Senior Course. This learning experience also forms friendships that endure once the course has been completed.
There then followed briefings on UK Defence Policy, the UK perspective on European Common Security and Defence Policy (CSDP) presented by a Foreign Officer representative and then the UK's role in NATO - including a most useful resume of the recent Wales NATO summit. Of particular note was the inclusion of a briefing by the Department for International Development (DFID) which detailed how Defence, the Foreign and Commonwealth Office and DFID worked together to promote a Comprehensive Approach to crisis response and deliver a coherent global capacity building programme.
The morning concluded with a panel question and answer session where concise, frank and candid responses were given to some searching questions. SC 125 returned to the MOD in the evening for a reception hosted by the UK's Director General for Security Policy. On Wednesday 8th October, SC 125 returned to Rome as the last stop on an enjoyable, interesting and culturally enlightening Field Study 1. Fortunately it was raining as we left London which restored the Course's faith in the traditional view of British weather.... London hates to disappoint!