Ambassadors H.E. Raouf Adly Saad and H.E. Dr Nassif Youssef Hitti address NRCC-12
08 Oct. 2014
|
Last updated: 10 Oct. 2017 13:26
On Tuesday 7 October 2014, the NATO Defense College (NDC) was honoured to receive H.E. Raouf Adly Saad (EGY) and H.E. Dr Nassif Youssef Hitti (LIB), Ambassador of the League of Arab States (LoAS) to Rome and the Vatican, as guest lecturers for the Twelfth NATO Regional Cooperation Course (NRCC-12).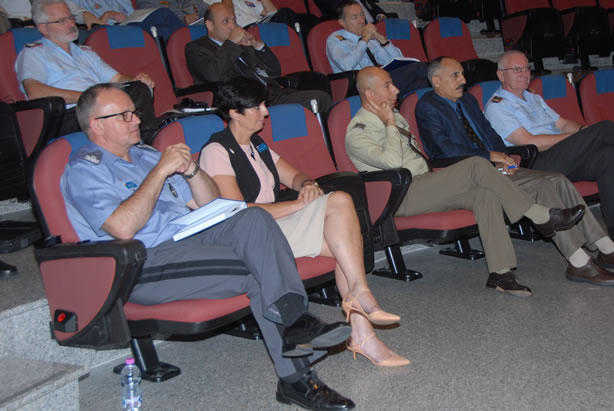 Both speakers were warmly welcomed by NDC Commandant Major General Janusz Bojarski (POL F), NDC Dean Dr Daria Daniels Skodnik (SVN C), and the Director of the Middle East Faculty, Col Giuseppe Morabito (ITA A).
The introductory talk of the day was by Anas El Gomati, founder and General Director of the Sadeq Institute. Ambassador Saad then took the floor, focusing on current economic, political, security and social challenges in Egypt.
In the afternoon, Ambassador Hitti spoke about Libya, assessing prospects for a peaceful settlement of the country's problems.
The lecture was followed by an intense Q&A session, with detailed discussion of key points raised by the speaker.
H.E. Raouf Adly Saad has held prominent positions within the Egyptian government and with various organizations. He was formerly Senior Assistant to the Minister of Foreign Affairs of Egypt and Assistant Foreign Minister for International Economic Relations. He also served as Egypt's Ambassador to the European Union, and as Chairman of the 3rd preparatory meeting dealing with regional strategy on intercultural dialogue and cooperation for the Mediterranean. He is a former Chairman of the Foreign Relations Committee in the Egyptian People's Assembly, and also of the Group of 77 at the United Nations in New York. He was awarded the Grande Croix de La Couronne by His Majesty Albert II, King of the Belgians, in 2001. Ambassador Saad is also a medal-holder of the Afro-Asian Peoples' Solidarity Organization.
H.E. Dr Nassif Youssef Hitti is Head of the LoAS Delegation to Rome and the Vatican. He was formerly Head of the LoAS Delegation to France, and the Permanent Observer of the LoAS to UNESCO. In 1991, he was the private diplomatic consultant to the LoAS Secretary General; from 1992 to 1999, he was also a professor of international relations and Middle East affairs at the American University in Cairo (AUC) and a member of the editorial board of the Arab League's Arab Affairs magazine. He has authored two books: The Theory of International Relations (1985) and The Arab World and the Five Major Forces: A Future Study (1987), in addition to numerous papers on international and Arab affairs published in specialized periodicals. Dr Hitti is a member of a number of research centres dealing with international and Middle East affairs. He was awarded a degree in political science by the American University in Beirut in 1975, and received an MA from the same university in 1977. He earned his PhD in International Relations from the University of Southern California in 1980.