SC 125 European Security Perspectives Field Study – Rome
14 Oct. 2014
|
Last updated: 31 Aug. 2015 16:19
Leaving the drizzle and grey overcast of London behind, Senior Course 125 disembarked from their flight in Rome to see blue skies and experience a much warmer 28 degrees; bella Italia!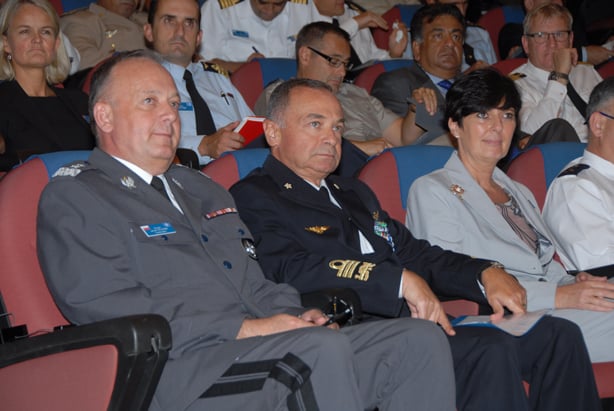 After a night to recover from a whistle stop tour, SC 125 departed their College home bound for the Quirinale Palace - the seat of Popes' in times past and now the residence of the President of Italy. The Course was met by an Honour Guard provided by the Italian Air Force, a privilege given to all units of Italy's Armed Forces. After a short introductory briefing the Course was divided into two for a most spectacular tour of this absolutely beautiful building. If you are fortunate enough to visit Rome, the Quirinale Palace has to be one of the 'Big Five' on a 'Roman Safari'. After a very pleasant two hours absorbing stunning chandeliers, amazing art and fantastic furniture it was time to depart with the prospect of an afternoon doing washing after the rigors of so many days away. Alas no washing time... A full afternoon was programmed as the NDC Staff kept some tired Course Members on their toes.
For this special occasion, the College had the pleasure to host Vice Admiral Rinaldo Veri (ITA N), President of the Italian Centre for Higher Defence Studies, who was warmly welcomed by the NDC Commandant Maj.Gen. Janusz Bojarski (POL F) and the Dean, Dr Daria Daniels Skodnik, (SVN C).
In the College Auditorium, and after the Admiral's introductory speech, there followed an afternoon of briefings by the Italian MOD on Defence Policy, the Ministry of Foreign Affairs and the impact of Italy holding the EU Presidency and a Ministry of the Interior perspective After a Question and Answer session the day was brought to an end.
Next Morning kicked-off with an early start ...07:20! The Course arrived at the Italian Joint Operations Headquarters where an opening address was made before a resume of Italian current operations was provided. Italy is contributing to 33 missions around the globe under the banners of the UN, NATO and the EU. The morning concluded with a video conference update provided by The Italian Commander of the United Nations Interim Force in Lebanon which provided an interesting history and a view on the current situation including the successful methods of negotiation and communication to keep the peace.
So that was that and the end of SC 125's First Field Study focussing on European Security Perspectives. Having visited Berlin, Amsterdam, Paris, London and Rome the Senior Course begins the next academic phase entitled 'The Transatlantic Link' now with increased awareness and some wonderful cultural experiences that can be found in Europe.