Visit to the NDC by H.E. Ahmed Salim Mohamed Baomar, Ambassador of the Sultanate of Oman to Italy
23 Oct. 2014
|
Last updated: 31 Aug. 2015 16:19
On Wednesday 22nd October, the NATO Defense College (NDC) was honoured by a visit from H.E Ahmed Salim Mohamed Baomar, Ambassador of the Sultanate of Oman to Italy. The Ambassador was warmly welcomed by NDC Commandant MGen Janusz Bojarski (POL F) and by the Director of the Middle East Faculty, Col Giuseppe Morabito (ITA A).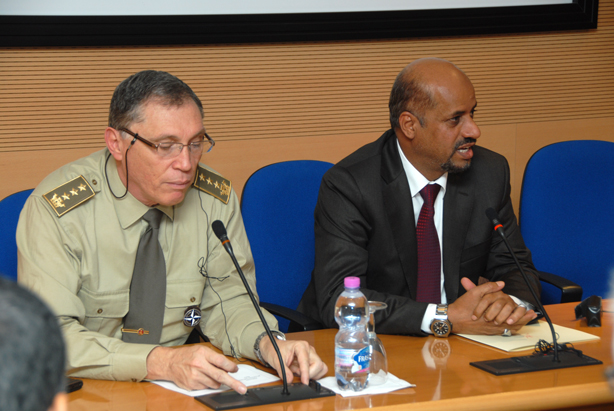 After spending a busy morning at the College, the Ambassador spoke to the twelfth NATO Regional Cooperation Course (NRCC-12), giving an informative and very topical talk entitled "Gulf update and the Strait of Hormuz: an Omani perspective".
His lecture was followed by a lively Q&A session, where all NRCC-12 participants, together with the Middle East Faculty and Staff, had the opportunity to engage with the speaker on many points of interest emerging from his talk.
Ambassador Baomar was born in 1964 in Salalah, in the Sultanate of Oman. He has a PhD in Political Jurisprudence in Diplomatic Immunity from the Malaysian Islamic University. The Ambassador started his career in 1991, as Director of the International Agreements Office - Legal Department in Muscat; in 1996, he became Chargé d'Affaires at the Embassy of the Sultanate of Oman in Kuala Lumpur. From 2002 to 2003, he was Director of the Diplomatic Courses Office, after which he was appointed Deputy Head of the Political Analysis Office. In 2005 he became Deputy Head of the Human Resources Department. He held the position of Director General of the Diplomatic Institute from 2007 to 2014, when he arrived in Rome as Ambassador Extraordinary and Plenipotentiary of the Sultanate of Oman to the Italian Republic.