The NATO Defense College participates in the fifth "Festival of Diplomacy"
27 Oct. 2014
|
Last updated: 10 Oct. 2017 13:26
On 23rd October, the Commandant of the NATO Defense College (NDC) Major General Janusz Bojarski, together with a delegation from the Research Division of the College, joined the Hon. Franco Frattini, President of the Italian Society for International Organizations (Società Italiana per l'Organizzazione Internazionale - SIOI) in a conference, as part of the fifth edition of the "Festival of Diplomacy".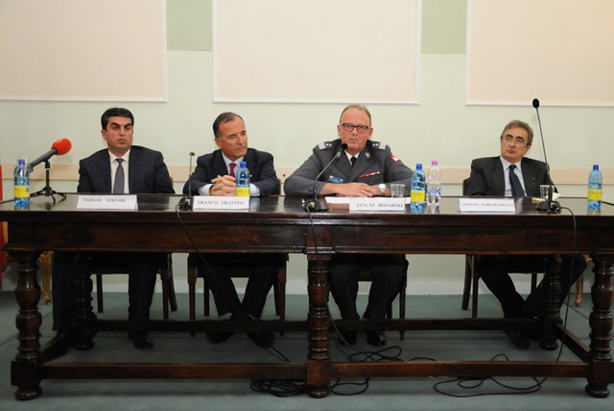 The ten day-long festival was started in 2010 with an aim to analyse issues in international politics and initiatives taken in the international diplomacy arena, which influence nations all over the world. The theme, this year, was digital proficiency for the young, as an asset in the face of growing unemployment and globalization.
In collaboration with the SIOI, the NDC gave a presentation on "NATO after the Wales Summit". Seen as one of the most important summits in NATO's history, it addressed a possible policy shift for NATO, to rebalance its strategy between "out of area" operations and collective defence requirements.
Dr Giorgio Bartolomucci, Secretary General of the Festival, welcomed guests and gave the floor to the Hon. Franco Frattini, who made the opening remarks and an introductory speech. Major General Janusz Bojarski, talked about the flagship role of the NATO Defense College as NATO's premier academic institution, highlighting the importance of research and education. The conference was also attended by H.E. Farhad Atrushi, Governor of Duhok (Iraqui Kurdistan) who briefly discussed the challenges to Middle East stability in the face of I.S.
Dr Smith-Windsor (NDC Research Division) opened the research panel session by providing a general introduction to the outcome of the Wales Summit, highlighting US President Obama's closing address to the Heads of State and Government, which stressed the importance of summoning the collective will to confront contemporary security challenges. He was followed by Dr Larsen (NDC Research Division Head), who clarified for the audience the meaning of an "appropriate mix" of conventional and nuclear deterrence and missile defence capabilities for the Alliance. Ms Heidi Reisinger (NDC Research Division) then offered an in-depth analysis of the Ukraine crisis, covering the notion of hybrid warfare and Russia's long-term strategic miscalculations. The formal presentations concluded with an analysis by Dr Lasconjarias (NDC Research Division) on Smart Defence and the challenge of meeting the 2 percent GDP target in national defence spending. The day ended with a lively Q&A period, with questions raised and comments made by the audience, which ranged from diplomats to students of international affairs.