SC125 Transatlantic link Field Study: Norfolk & HQ SACT
10 Nov. 2014
|
Last updated: 10 Oct. 2017 13:26
On 5 November, the group arrived to Norfolk, Virginia, the second stop of this Field Study program.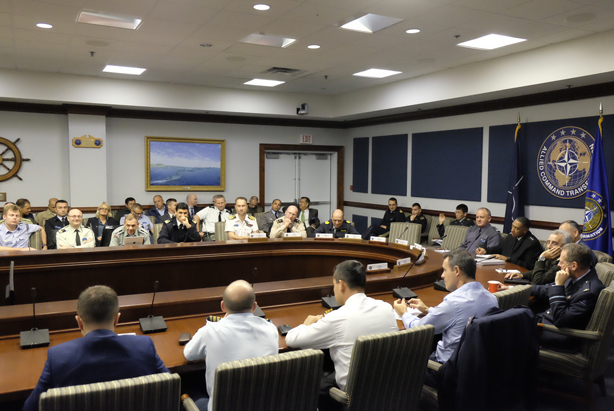 The following day, after an early morning arrival to Headquarters, Allied Commander Transformation (HQSACT), the group was warmly welcomed by BGen. ROGA, ACOS Joint Education Training & Exercises. The delegation's first address was from General PALOMÉROS, Supreme Allied Commander Transformation (SACT) where he thoroughly set the stage for the morning's presentations noting the significance of the results from the NATO Wales Summit and its direction to this Transformation Headquarters in preparing the future of NATO forces in terms of relevance, value of partnerships and military readiness. He finished leaving CM with thoughts on resilience in the reality of declining defense budgets and emerging hybrid treats.
The program continued with the following presentations;
Capt BURWITZ discussed the Connected Forces Initiative (CFI), explaining the CFI's structure and mandate and stressing the role played by education and training, frequent exercises and better use of technology. The speaker emphasized the importance of individual and collective training, with a view to fostering interoperability within the Alliance and with Partner nations. Capt COX then discussed Future Works, including detailed information on the involvement of ACT in the NATO Forces 2020 and 2030 projects. Finally, Capt ANNIGHOEFER led a discussion on Partnerships including relationships between military forces, international and non-governmental organizations and public and private sector partner. Concluding with the concept behind the ACT sponsored Strategic Military Partners Conference as a select primary annual event supporting initiatives on common effort, interoperability, overcoming divergent cultures and more between NATO and NATO partners.
The ACT program concluded with a quality panel discussion/question and answer session supported by Vice Admiral GONZALEZ-HUIX (DCOS JFT and Senior Course 97 graduate), Vice Admiral GROOMS (DCOS CD), MGen. SEVILL(DCOS R&M), MGen. ZEEUW (ACOS C2DS and BGen. WATTEEUW (ACOS DP) who joined the group to answer a broad range of challenging questions from Course Members. Following final comments from the SC representative and the NDC Commandant, MGen. BOJARSKI, the delegation departed for Washington, DC the final stop in the US for this first week of the Field Study.