New Research Division Publication: "The Staff Ride - Using History to Build Leaders"
04 Nov. 2014
|
Last updated: 10 Oct. 2017 13:26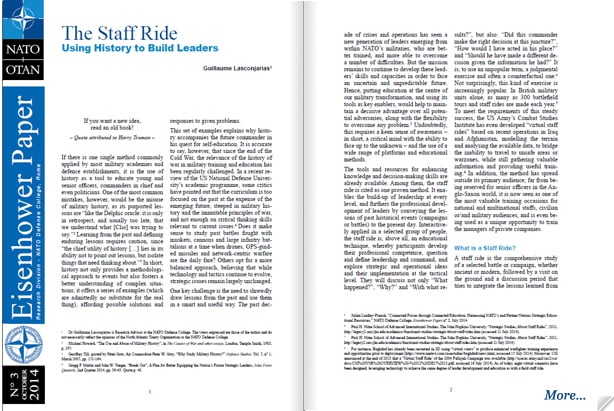 Developed by the Prussian General Staff in the second part of the 19th century to train and educate senior military officers, the staff ride was once considered as one of the most successful educational tools to teach strategy, to understand the implementation of military principles at every level of operations, and to build leadership.
Based on historical scenarios and campaigns, the staff ride examines case studies from the past which are still applicable today, considering key features, such as the terrain, the role of technology and the importance of human nature on the battlefield.
However, the most interesting part of the staff ride is the study of decision-making and of how leaders, facing overwhelming challenges, took their decisions and had them carried out. In the last three decades, staff rides have expanded out of their traditional military domain, to organizations and companies who use them for their future leaders.
The latest Eisenhower Paper by a senior member of the NDC Research Division provides a comprehensive understanding of what the staff ride is, and why it could be used by military academies, war colleges or defense universities, and within NATO and its national headquarters to better understand how to implement decisions taken from above, how to overcome obstacles, how to allocate limited resources, and how to build a strong esprit de corps.
Jeffrey A. Larsen, PhD, Division Head Research