NRCC-MEF Excursion to Naples Orientale University
17 Nov. 2014
|
Last updated: 31 Aug. 2015 16:19
On Friday, the twelfth NATO Regional Cooperation Course (NRCC-12) and members of the Middle East Faculty (MEF) travelled to the University of Naples "L'Orentale." The purpose of the trip was to attend a series of lectures titled "Migrations and Mediterranean Sea." The program began with a lecture presented by Professor Enrico Pugliese titled "Migrations and Migration Policies in the Mediterranean Countries." Enrico Pugliese is the Professor Emeritus of Sociology of Labor at the University of Rome "La Sapienza." During his presentation, Professor Pugliese began with a brief history of immigration to Italy beginning in the 1970s and 1980s. He developed the ideas of geography, labour demand, and government policy as they relate to Italy's increase in immigration from across the Mediterranean Sea and Eastern European countries. At the end of his presentation, Professor Pugliese touched on the influx of immigrants from Arab countries in the Middle East and North Africa as a result of the revolutions stemming from the Arab Spring.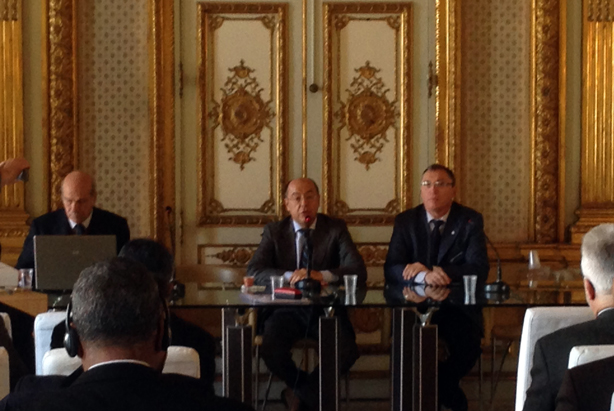 The second lecture was presented by Giuseppe Cataldi titled "Migrations through Mediterranean Corridors: Some Law of the Sea and Human Rights Issues." Giuseppe Cataldi is a Professor of International Law at the University of Naples "L'Orientale." Coming from a law background, Professor Cataldi discussed the responsibility of states to protect immigrants seeking asylum from war-torn and unstable countries. In addition, he discussed the necessity for a strong EU-Mediterranean partnership to share the burden of the immigration issue. He also spoke of two specific operations, MARE NOSTRUM and Operation Trident. MARE NOSTRUM was described as a costly, but necessary operation funded by Italy to provide a solution to immigrants fleeing North African shores. Although it is coming to an end due to cost, it is a testament to the necessity of an EU approach to the situation of immigration in the Mediterranean region.
At the end of the lecture series, Col. Giuseppe Morabito, Head of the Middle East Faculty, mediated the question/answer session and provided the concluding remarks. The success of the lecture series was made possible by the University of Naples "L'Orentale" in cooperation with the NATO Defense College and the Course on international and Diplomatic Studies.