NRCC-12 visit to CASD
20 Nov. 2014
|
Last updated: 31 Aug. 2015 16:19
On Tuesday 18th November, the twelfth NATO Regional Cooperation Course (NRCC-12) and members of the NDC's Middle East Faculty (MEF) were hosted by the Centre for Higher Defence Studies (CASD) in Rome. The aim of this visit, led by MEF Director Colonel Giuseppe Morabito, was to attend lectures on recent developments in various parts of the Mediterranean and the Middle East.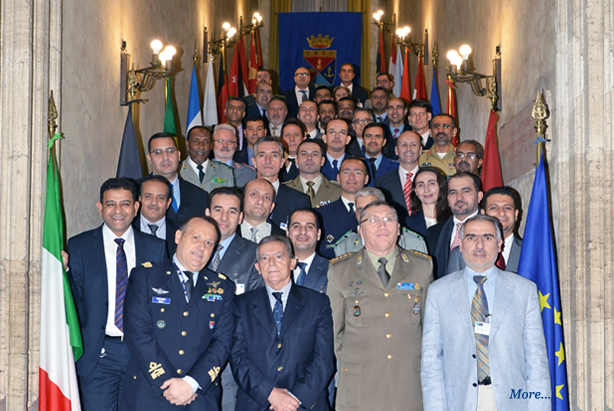 The first presentation was provided by RAdm Mario Rino Me, on the "5+5 Defence Initiative". A former Deputy Director of Strategic Plans and Policy at the Italian MOD, RAdm Me played a crucial role in the development and implementation of the 5+5 Initiative, involving ten states in the greater Western Mediterranean region. In his lecture, he analysed the importance of the relationship among the countries involved in the initiative, with regard to current geopolitical issues in the MENA region.
Dr Nicola Pedde, Director of the Institute for Global Studies, then spoke about "Iran and the Region". The presentation provided detailed insight into Iran's role in the region, with an up-to-date perspective on the Iranian nuclear programme and the new relationship between the US and Iran.
In the afternoon, the NRCC 12 attended a lecture by Maj Gen Salvatore Farina on "The NATO KFOR Experience". Maj Gen Farina has extensive, high-level experience of defence matters. As former Commander of the NATO Operational Joint Enterprise in Kosovo (September 2013-September 2014), he presented a clear overview of the KFOR mission; he underlined all the difficulties faced on the ground, and assessed the mission's achievements to date and continuing challenges.
Each of the lectures was followed by an active question and answer session, moderated by NDC Faculty Advisor Dr Maria Grazia Romano.