Lecture of Opportunity by General (ret.) John R. Allen
22 Nov. 2014
|
Last updated: 10 Oct. 2017 13:26
On 21st November, the NATO Defense College had the great honour to welcome General John R. ALLEN (US Marines), former ISAF Commander and recently appointed by USA President Barack Obama as "Coordinator of the international coalition fighting the Islamic State in Iraq and Syria".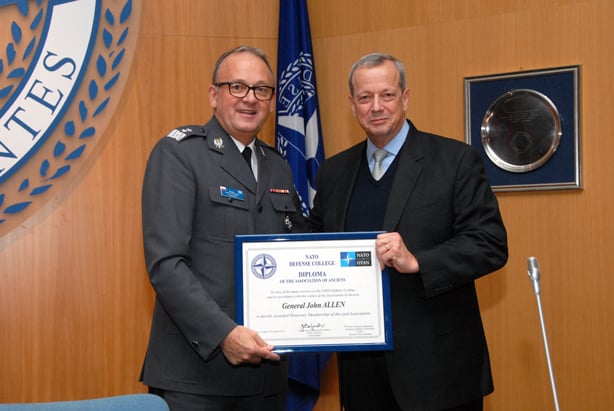 Gen Allen was warmly welcomed by the NDC Commandant, Maj Gen Janusz BOJARSKI (POL F), and Dean Dr Daria DANIELS SKODNIK (SVN C). After spending time in discussion with the Commandant and the Dean, Gen Allen was escorted to the Maynard-Thorne Auditorium to address the twelfth NATO Regional Cooperation Course (NRCC-12) and Senior Course 125 (SC 125).
Before his lecture, he was awarded the title of "Honorary Ancien", an honour conferred on individuals who have rendered exceptional service to the Alliance or to the College. As former ISAF Commander, Gen Allan supported the College in raising awareness with regard to the critical role and global implications of NATO operations in a difficult arena; he was also proactive in his contribution to fulfilment of the Alliance mission, striving to restore peace and security in the complex and demanding scenario of the Afghan mission.
During his lecture, Gen Allen focused on the main strategies of his current position, highlighting how the cooperation among allied countries is a key to success.
Gen Allen continues to be active in the US policy arena, and his experience is sought after at the highest levels of government. Currently, he serves as Senior Advisor to the US Secretary of Defense. He is also a Distinguished Fellow in the Foreign Policy Program at the Brookings Institute. Prior to retiring from the Marine Corps, he commanded the NATO International Security Assistance Force and United States Forces in Afghanistan, from July 2011 to February 2013. Allen's command of the 150,000 US and NATO forces in Afghanistan occurred at a particularly critical period in the war. During his command, he recovered the 33,000 US surge forces, moved the Afghan National Security Forces into the lead for combat operations, and pivoted NATO forces from being a conventional combat force into an advisory command. Further, he established the division-sized Special Operations Joint Task Force. In the process, his forces closed or realigned over 500 bases and facilities. All of these activities were conducted in contact with the enemy, and during active and particularly intense combat operations. Allen's contingency and combat operations assignments included: Operation Sea Signal, in the Caribbean (1994); Operation Joint Endeavor, in the Balkans (1995-1996); Operation Iraqi Freedom, in Iraq (2007-2008); and Operation Enduring Freedom, in Afghanistan (2011-2013).