The Polish Under-Secretary of State for Defence H.E. Beata Oczkowicz visits the NDC
26 Nov. 2014
|
Last updated: 10 Oct. 2017 13:28
On Wednesday 26 November the NATO Defense College received the visit of Polish Under-Secretary of State for Defence H.E. Beata Oczkowicz, during her official visit to Italy.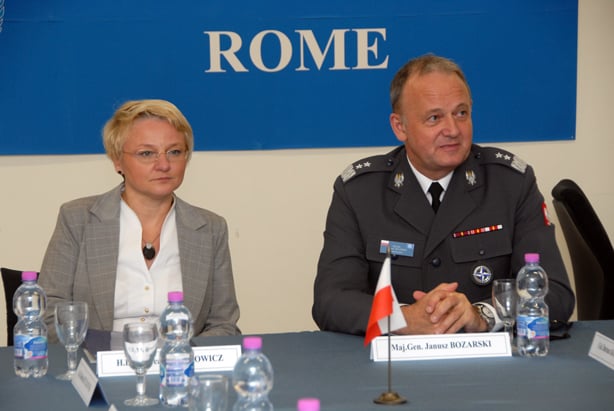 Upon arrival, H.E. Oczkowicz and the Polish delegation travelling with her were warmly welcomed by NDC Commandant, Major General Janusz Bojiarski (POL F). After a working lunch, she was briefed on the NDC's mission and activities by the Polish Senior National Representative, Colonel Andrzej Ostrowski (POL A). At the end of the meeting, H.E. Oczkowicz was given a tour of the College and before departure, had a private conversation with the Commandant.
Beata Oczkowicz graduated from the Civil Engineering Faculty at Kielce University of Technology. She continued her postgraduate studies in Business Management and Quality Management at AGH University of Science and Technology in Krakow.
The following institutions are part of her remit: Infrastructure Department of Ministry of National Defence, Military Fire Service, Military Energy Management Inspection, Military Technical Inspection, Military Property Agency and NATO Security Investment Programme Management.
Beata Oczkowicz has worked at Kielce City Hall. In 1996 she started work in the Gas Engineering Plant in Kielce. From October 2003 she was the manager of the Department of Energy and Mechanics at the plant. One of her main tasks was developing gas infrastructure in Świętokrzyskie Voivodeship. In 2010, Beata Oczkowicz was appointed deputy governor of Świętokrzyskie Voivodeship. She is married, and has a daughter and a son.