Sixth Middle East Faculty Academic Advisory Board (6th MEF AAB)
28 Nov. 2014
|
Last updated: 31 Aug. 2015 16:19
On Thursday 27 November 2014, the NATO Defense College (NDC) had the honour to host the sixth meeting of the Academic Advisory Board (AAB) of the Middle East Faculty directed by Colonel Giuseppe Morabito (ITA A).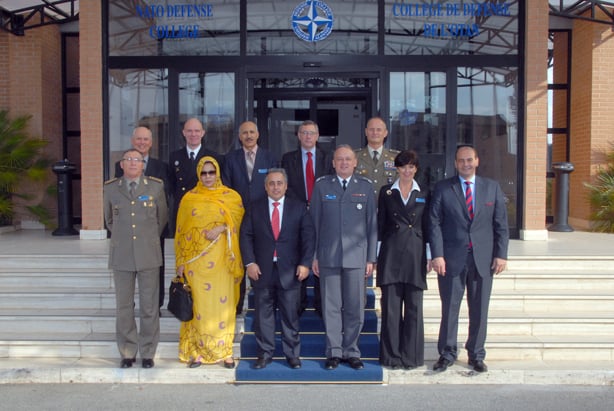 The meeting was attended by the Commandant, Major General Janusz Bojarski (POL F), and by the Dean, Dr Daria Daniels Skodnik (SVN C), as well as by other distinguished guests: the Ambassador of Morocco to Italy, H.E Hassan Abouyoub (MAR); the Ambassador of Qatar to Belgium, H.E Ali Bin Jassim Al Thani; the Ambassador of Mauritania to Italy, H.E Mariem Mint Aoufa (MRT); Ambassador Dr Sameh Aboul-Enein (EGY); Cdr Jose Henriques (POR N), IMS NATO; Dr Alberto Bin (ITA, NATO/HQ); Brigadier General Ivan Caruso (ITA, NATO/HQ); Professor Mark Clark (USA); Major General Mohammed Awwad (JOR A, MEF Advisor); Col Kent Soebbing (USA A); and Dr Jean-Loup Samaan (FRA C, FA/MEF).
Welcoming remarks were given by the NDC Commandant, after which the Dean introduced the day's academic proceedings.
The goal of the MEF is to address issues of concern to Mediterranean Dialogue (MD) and Istanbul Cooperation Initiative (ICI) nations, as well as to NATO as a whole, and to develop mutual understanding and professional contacts between NATO Regional Cooperation Course (NRCC) participants. Its dynamism and engagement afford an essential channel for outreach activities to MD and ICI countries, as well as other partners from the broader Middle East region.
Independent external advice from the MEF AAB on course content and related academic matters affords a consistent focus on the contribution of the MEF to high-level strategic education for representatives of NATO, MD and ICI member countries. Having an advisory forum of this calibre is extremely important: a constant evaluation procedure helps ensure not only that the MEF provides an eminently relevant academic framework for close links with similar organizations in MD and ICI countries, but also that voluntary contributions to the MEF are appropriately encouraged and coordinated.