Senior Course 125 Regional Approaches Field Study 3: Istanbul
19 Dec. 2014
|
Last updated: 10 Oct. 2017 13:28
On 16 December, the delegation awoke in Istanbul, Turkey to a scheduled social day in Istanbul's historic Sultanahmet District including a guided tour including the The Sultan Ahmed Mosque, Istanbul Mosque, popularly known as the Blue Mosque, and nearby sights.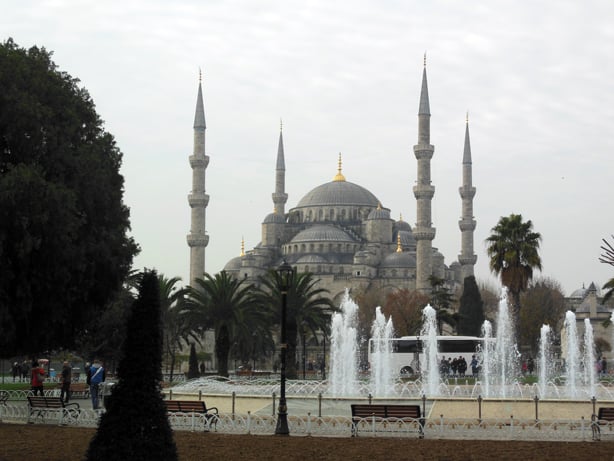 The next morning the delegation traveled to the Turkish Joint Command and Staff College. Upon arrival, Course Members received a welcome and agenda briefing from Brigadier General Cengiz. KARACABEY, Commandant of the Armed Forces Staff College.
A presentation on the Contributions of the Turkish Armed Forces to Regional and Global Security was delivered by Major General Rafet Sevinç ŞAŞMAZ, Turkish General Staff. Maj.Gen. ŞAŞMAZ spoke on change and uncertainty in regional geopolitics and the Turkish viewpoint and relationships with ongoing crisis in the region. Within the context of a nation that possesses maritime and land borders with fourteen other nations, he discussed Turkish Armed Forces contribution to NATO since joining in 1952 and detailed its military forces support to NATO headquarters', standing task forces and operations as well as those of the EU and UN. He concluded, outlining smart defense initiatives via NATO Centers of Excellence, Turkey's bilateral training agreements and current mission support agreements.
Ambassador Ahmet Altay CENGIZER, Director General for Policy & Planning, Ministry of Foreign Affairs discussed Turkish Foreign Policy. With a limited amount of time, Amb. CENGIZER decided to forgo a formal presentation and immediately allowed Course Members to present him challenging questions on Turkish foreign policy.
The next presentation from Admiral Yaşar ÇAMUR,Turkish General Staff informed the delegation on the Turkish Straits and the Montreux Agreement. The Turkish Straits connect the Black Sea to the Mediterranean Sea with the Montreux Agreement providing an international treaty governing shipping and sea lane traffic on the waterway. Adm ÇAMUR discussed how the treaty affects the security and stability of the Black Sea region and the rules of navigation for both commercial and national shipping both in times of peace and conflict. He concluded emphasizing Turkish importance of upholding the auspices of this 78 year convention.
Following a film on the Turkish War Colleges Command, providing interesting details on its history, organization and academic practices, Colonel Taner SAĞIROĞLU, Turkish Joint Command and Staff College (TJCSC), Director of Staff, briefed the organizations' mission, vision and functions. The college vision, to be a leading college among its counterparts on strategic security studies, prepares both Turkish and International contemporary officers for their duties in the 21st century.
The visit concluded with a working lunch hosted by Brigadier General KARACABEY, where Major General Janusz BOJARSKI, NATO Defense College Commandant exchanged gifts with our host.