Third Roundtable on Ukraine, Russia and the neighbourhood at the NATO Defense College
13 Feb. 2015
|
Last updated: 31 Aug. 2015 16:19
On Monday 9 February 2015, the NATO Defense College (NDC) Research Division hosted a Roundtable entitled "Ukraine and its Neighbourhood – How to Deal with Aggressive Russia."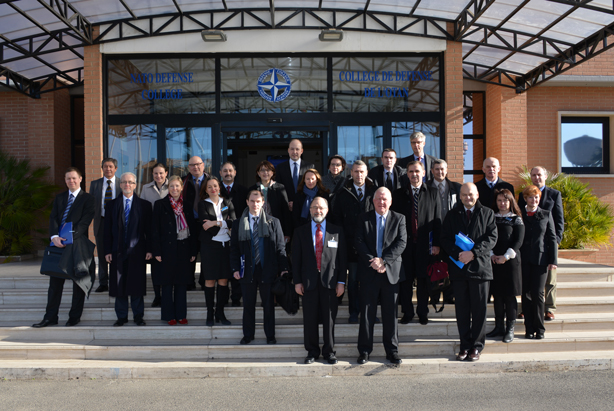 The event brought together 27 experts from various research institutions in Belarus, Georgia, Germany, Poland, Russia, Ukraine, the United Kingdom, the United States and Uzbekistan, along with senior practitioners from the NATO International Military Staff (IMS) and International Staff (IS). The Roundtable discussed Ukraine's defence cooperation with NATO, Russia's military capabilities in the context of the current crisis, and the perception from neighbouring countries.
The Roundtable was organized and chaired by Heidi Reisinger (DEU C), Senior Analyst at the NDC Research Division. The first panel, on "Military Capabilities on the Rise?", benefited from the contributions of Dr Igor Sutyagin, Senior Research Fellow at the RUSI Institute in London; Dr Bettina Renz, Assistant Professor at the University of Nottingham, UK, and Mr David Johnson, Staff Officer, Policy and Planning Division at NATO IS. Closing comments were provided by Mr Aleksandr Golts, Deputy Editor of the web magazine, Yezhdnevny Zhurnal, Moscow.
The second panel on "NATO-Ukraine Defence Cooperation", was addressed by Colonel Ihor Kosiak, Head, Division of Territorial Defence (Main Operational Department), Ukrainian Armed Forces General Staff; and Ms Mari Tomingas, Senior Staff Officer, NATO-UKR Defence Cooperation, NATO IS. Comments were provided by Dr Marek Menkiszak, Head of the Russia Department, Centre for Eastern Studies, Warsaw.
The Roundtable's third and final panel discussions entitled "Russia's Neighbourhood" were led by Dr Maia Panjikidze, Former Foreign Minister of Georgia; Colonel Tom Smellror, Head Russia Section, Cooperation & Regional Security Division, NATO IMS. Conclusions were presented by Dr Farkhod Tolipov, Director of the Education and Research Institution "Bilim Karvoni", Tashkent.
Dr Brooke Smith-Windsor (CAN C), Deputy Head of the NDC Research Division, wrapped up the Roundtable with a summary of the conclusions, following the day's comprehensive and in-depth deliberations.
A report on the Roundtable's key findings is forthcoming.