Inauguration of the Thirteenth NATO Regional Cooperation Course (NRCC-13)
04 Mar. 2015
|
Last updated: 10 Oct. 2017 13:24
On Monday 2 March, the NATO Defense College had the pleasure of hosting the Inauguration of the thirteenth NATO Regional Cooperation Course (NRCC-13). The ten-week strategic-level course is offered twice each year to promote closer dialogue, understanding and educational cooperation, with specific reference to the Middle East and North Africa.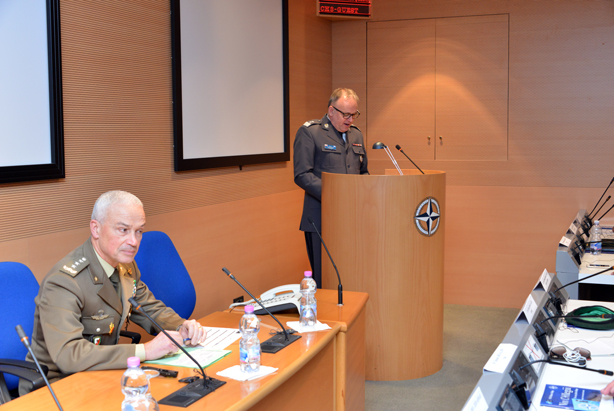 The NRCC, created in 2009 and directed by the Head of the Middle East Faculty, Col Giuseppe Morabito (ITA A), is the Alliance's major educational outreach programme. NRCC-13 brings together 36 participants from 17 countries, including members of NATO, the Mediterranean Dialogue (MD) and the Istanbul Cooperation Initiative (ICI), as well as Global Partners. This edition of the NRCC is especially significant, because for the first time ever it includes participants from Afghanistan.
NDC Commandant MGen Janusz Bojarski (POL F) and the NDC Dean, Dr Daria Daniels Skodnik (SVN C), welcomed the participants and introduced them to the Course, following the opening ceremony which took place in the Ismay Auditorium. The event was honoured by the presence of the Commander of the Army Inspectorate of Infrastructure, LtGen Giorgio Battisti (ITA A), who delivered a lecture to Course Members, faculty and staff on the recently concluded International Security Assistance Force (ISAF) mission in Afghanistan. Having served as ISAF Deputy Chief of Staff Support and Italian Senior National Representative, LtGen Battisti was able to share his considerable first-hand experience of the mission with Course Members. He spoke about ISAF as a perfect example of multinational and cooperative teamwork, underlining the collective engagement of the 48 countries involved in the coalition and discussing the complex scenario in which the mission was carried out.
Recently, ISAF has been superseded by the Resolute Support Mission, the aim being to ensure continued training and assistance for Afghan security forces, which have now taken lead responsibility for security in Afghanistan.
With this inaugural lecture, NRCC-13 participants embarked on what will prove to be an intense educational experience, including a range of different activities (lectures, conferences, workshops and field studies). We wish Course Members every success in gaining the most from this unique opportunity to learn, exchange views and build lifelong bonds of friendship.