Lecture by the former Commander of KFOR, Major General Salvatore Farina
20 Mar. 2015
|
Last updated: 10 Oct. 2017 13:24
On Wednesday 18 March 2015, the NATO Defense College (NDC) was honoured to host Major General Salvatore Farina, the former Commander of the Kosovo Force (KFOR).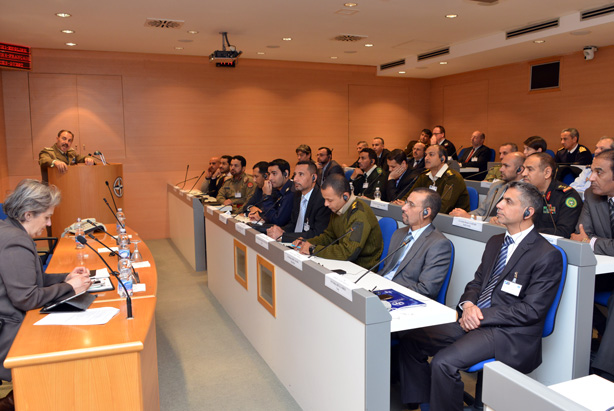 Upon arrival, MGen Farina was warmly welcomed by NDC Middle East Faculty Director Colonel Giuseppe Morabito (ITA A), who updated him on College activities and the NRCC.
Addressing the members of the thirteenth NATO Regional Cooperation Course (NRCC-13) in a lecture entitled "KFOR Experiences: The Italian Leadership in KFOR XVIII", the speaker presented a comprehensive overview of his experiences in Kosovo between September 2013 and 2014, the current political, security, and economic dynamics in Kosovo, and the reshaping and capabilities of KFOR. Major General Farina discussed the importance of reorganization and efficient utilization of NATO forces within Kosovo, to maintain stability in the South and stabilize the North in conjunction with Kosovo's expanding police forces.
The Major General also discussed the challenges that Kosovo still faces, with particular emphasis on the northern half of Kosovo and the risk of a backwards trend towards violence between ethnic and religious groups. He discussed the key issues of maintaining peace and rule of law by preventing interethnic conflict, expanding the economy, and promoting democracy with a view to normalization throughout Kosovo.
The subsequent Q&A provided ample opportunity for in-depth discussion on related issues, including the involvement of many Course Members' states in KFOR.
Major General Farina served as KFOR's Commanding Officer between September 2013 and September 2014. He currently serves as Chief of the Army Department for Transformation, within the Italian Army General Staff.