Conference Report: "Ukraine and its Neighbourhood - How to Deal with Aggressive Russia"
23 Mar. 2015
|
Last updated: 10 Oct. 2017 13:26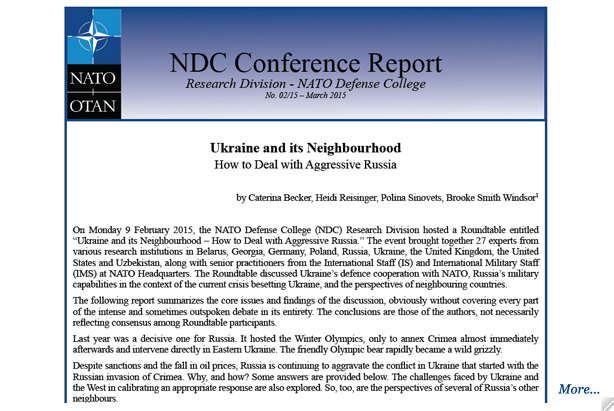 For quite some time Russia has been considered a "difficult partner" for NATO, but 2014 was a particularly defining year. NATO has to adjust itself to this new situation. After the unlawful annexation of Crimea - the boldest land grab by a European power since World War II – and Moscow's covert invasion of Eastern Ukraine, Russia has become an increasingly isolated and unpredictable actor. The Kremlin's need for "buffer states" turns more and more into a threat, especially to Russia's neighborhood – or its "sphere of influence" as Moscow likes to see it. Russia's only new allies seem to be the breakaway Georgian republics of Abkhazia and South Ossetia, with whom Moscow signed a wide-ranging alliance this week.
The latest NDC Conference Report, based on the findings from a workshop our division hosted in Rome in February 2015, asks whether Russia really is a military threat, how this is perceived in its neighborhood, and why it is so challenging for the Alliance to support a partner at war. I hope you find it stimulating reading.
Dr Jeffrey Larsen, Division Head Research