SC 126 European Security Perspectives and PfP Field Study - London
30 Mar. 2015
|
Last updated: 10 Oct. 2017 13:26
The Field Study programme of Senior Course 126 continued with a visit to London, where the group arrived on 26th March. Course Members were welcomed by the Director General of Security Policy at the Ministry of Defence, Mr Peter Watkins, during a reception held in the Memorial Courtyard of the Ministry. Mr Watkins, an Ancien of the NATO Defense College, provided his perspective on the current security situation in Europe, the importance of the decisions taken at the Wales Summit, the current implementation process and the pivotal role of NATO in meeting the security challenges of the future.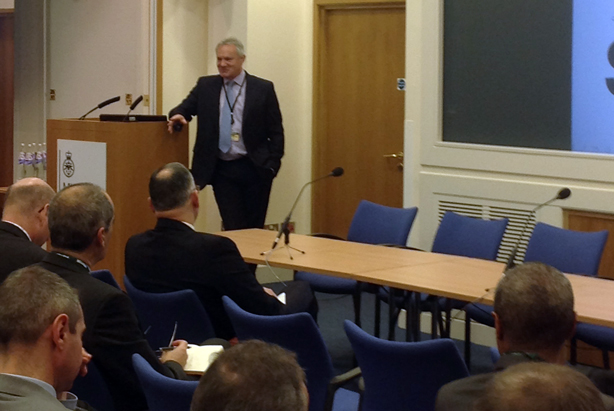 On the following day, SC126 attended a series of briefings at the Ministry of Defence. An opening welcome address was provided by Deputy Chief of Defence Staff Military Strategic Operations, Lieutenant General Gordon Messenger, who talked about recent changes in the strategic scenario and their impact on current and future military operations.
The welcome address was followed by five presentations. The first, about the UK's defence policy, was delivered by Group Captain Paul O'Neill, Defence Strategy & Priorities and Military Strategy Planning. His presentation covered different issues related to defence strategy. Potential timelines, outcomes, objectives related to the new framework for defence, and the factors and key emerging themes impacting the process of defence strategic planning were explained in detail.
The second presentation, on NATO and the CSDP, was given by Alison Stevenson, Head of NATO and Europe Policy. She explained why NATO is at the heart of UK defence and elaborated on the importance of current and future contributions to the Alliance, covering the outcomes of the Wales Summit and the way ahead from Wales to Warsaw. The evolution of the CSDP, as well as the UK vision of this topic and other EU key issues, was also covered extensively.
Group Captain Dan Storr, Assistant Head of Ops Military Operations Directorate, then spoke about the UK's Global Outlook and UK Operations, covering the UK's current operations in detail.
Richard Lindsay, Head of Security Policy Department - Foreign and Commonwealth Office, gave the fourth presentation. He explained the role of the Foreign and Commonwealth Office, and the UK's priorities concerning security, prosperity and consular issues.
The fifth and last presentation, on the UK's developmental approach to conflict and instability, was delivered by Susan Loughhead, Head of Conflict Security and Justice Group - Department for International Development (DFID). She discussed official UK development assistance, the eight Millennium Development Goals, the DFID's bilateral programme and aid footprint, the continued and new challenges presented by conflicts and fragile states, the way ahead and future planning.
The session at the Ministry of Defence ended with an extensive and lively question period, chaired by Alison Stevenson, with the participation of the four other lecturers. A lot of questions were raised and answered very openly, complementing and expanding the valuable information Course Members had received during the briefings.
In the afternoon, the NDC group visited the Houses of Parliament.