Lecture by former Commander of EUTM Somalia, Brigadier General Massimo Mingiardi
09 Apr. 2015
|
Last updated: 31 Aug. 2015 16:19
On Tuesday 7 April 2015, the NATO Defense College (NDC) was honoured to host Brigadier General Massimo Mingiardi (ITA A), former Commander of the European Union Training Mission Somalia (EUTM Somalia).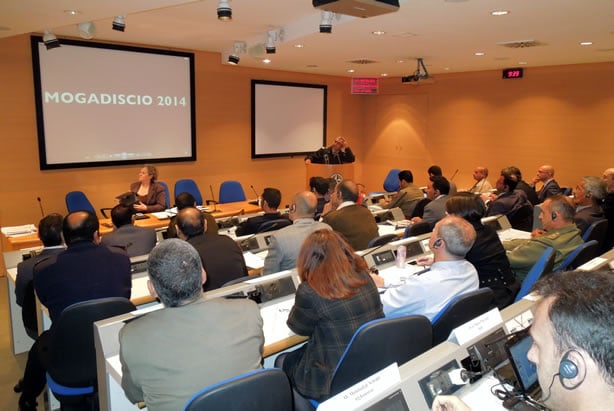 Upon arrival, BGen Mingiardi was warmly welcomed by NDC Middle East Faculty Director Colonel Giuseppe Morabito (ITA A), who updated him on College activities and the ongoing Thirteenth NATO Regional Cooperation Course (NRCC-13).
BGen Mingiardi spoke to NRCC-13 about the current situation in Somalia, focusing on international efforts to combat warlordism and terrorism. He underlined the importance of security, and the essential role of resources in enabling the local population to fight against the Islamic terrorist group Al-Shabab. Weak government and the fragmentation of society have enabled this terrorist group to establish a foothold in the country, making it permeable to terrorist cells that ultimately exploit the local population and their resources.
The prime objective of BGen Mingiardi's forces was to establish security within Mogadishu, in order to improve stability and help legitimize the government. However, he noted that the only way to see real and immediate progress is to obtain sizeable investments and increase the strength of national security forces accordingly.
BGen Massimo Mingiardi was born in 1963 in Florence. He joined the Army in 1982 and was commissioned into the 'Folgore' Airborne Brigade as a Platoon Commander in 1986, after completing the four-year course at the Military Academy in Modena and at the School of Military Studies in Turin. After two years he was appointed as an instructor to the Military Academy. In 1991 he was commissioned as a Company Commander in the Airborne School in Pisa. In 1992 he was appointed as a Company Commander to the 186th Airborne Regiment in Siena and, with his company, took part in Operation RESTORE HOPE and in UNISOM II in Somalia. After a year at the War College (1994-95), he was appointed as a staff officer to the General Army Staff, in the Intelligence Branch, until 1998.
From 1998 to 1999 he attended the Joint Senior Staff Course and, after one year as a staff officer in the General Defence Staff, he commanded the 5th Airborne Battalion in Siena, taking part in Operation JOINT GUARDIAN in Kosovo. From 2001 to 2006, he was Staff Officer to the Italian Joint Operations Headquarters (IT JOHQ). From 2006 to 2008 he commanded the 183rd Airborne Regiment ('Nembo') in Pistoia. From 2010 to 2011 he was at the Royal College of Defence Studies in London, having completed two years as Chief of J5 Plans Division at the IT JOHQ in Rome.
In October 2011, he was appointed as Commander to the 'Folgore' Airborne Brigade.
Since April 2013, he has been Deputy Commander of the Infantry School.
He graduated in Political Science at Bologna University and in Military Studies at Turin University. He obtained Master's qualifications in Strategic Science at Turin University, and in International Strategic and Military Studies at Milan University.
He attended the European Security Defence Policy Orientation Course.
He enjoys a wide variety of sports (in particular skydiving) and hobbies.