NRCC-13 Graduation Ceremony, with an address by Ambassador Gunter Mulack
08 May. 2015
|
Last updated: 10 Oct. 2017 13:26
The graduation ceremony of the 13th NATO Regional Cooperation Course (NRCC-13) was held today, 8 May. Ambassador Gunter Mulack (DEU), Executive Director of the German Orient Institute, delivered an impressively wide-ranging graduation address entitled "Challenges and Threats in the Middle East in 2015".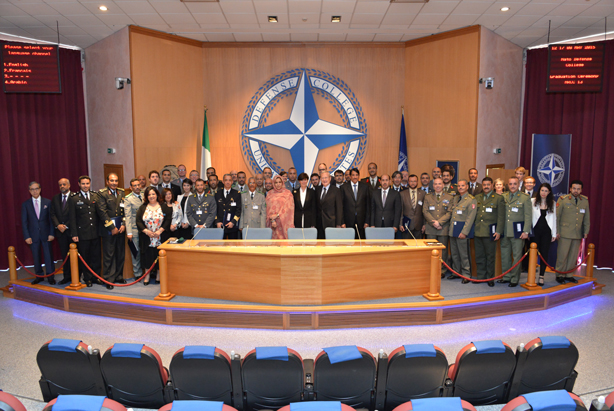 NRCC-13 brought together 35 participants from 17 countries, highlighting the importance of a collective answer to present-day crises and security issues. Following Ambassador Mulack's address, NDC Dean Dr Daria Daniels Skodnik (SVN C) and MEF Director Col Giuseppe Morabito (ITA A) presented each participant with their graduation diploma.
The NRCC was first run in 2009, within the NDC's newly created Middle East Faculty (MEF), in order to expand the NATO network of educational activities towards partners in the Mediterranean Dialogue and the Istanbul Cooperation Initiative. Lasting ten weeks, the course is held twice a year. Its development has undoubtedly provided a crucial contribution to international cooperation.
The main purpose is to inform military and civilian personnel from MD, ICI and NATO countries on current and future security challenges that have an impact on the Mediterranean region and the Middle East.
With its international setting, the course gives an opportunity to develop valuable professional contacts, based on bonds of mutual respect and understanding. The NRCC continues to promote security and stability in a region characterized by continuous tension and crises.