SC126 Transatlantic link Field Study 2: Allied Command Transformation at Norfolk, Virginia
11 May. 2015
|
Last updated: 10 Oct. 2017 13:26
On 6 May, the group arrived in Norfolk, Virginia, the second stop of this Field Study program. After a visit to the US Navy Exchange, the largest military shopping facility in the continental United States, Course Members checked into their hotel and spent the evening walking and dining along the Portsmouth, Virginia riverfront.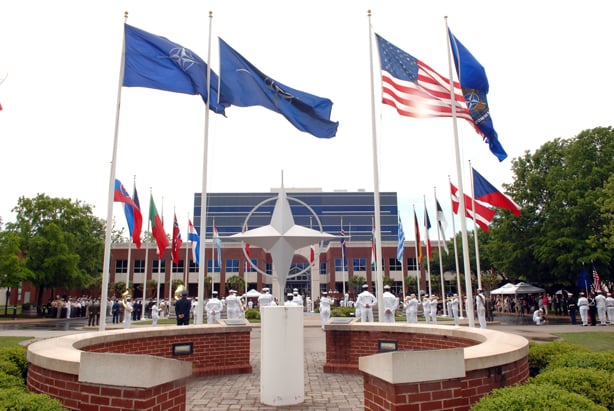 Following an early morning arrival at Headquarters, Allied Commander Transformation (ACT) on 7 May, the group was warmly welcomed by BGen ROGA, ACOS Joint Education Training & Exercises. The delegation's first address was from General PALOMÉROS, Supreme Allied Commander Transformation (SACT), who thoroughly set the stage for the morning's presentations by focusing on a number of priorities: current challenges and opportunities for the Alliance; the diversity and simultaneity of emerging hybrid threats; work on building the strength and solidarity of the Alliance; strategic investment in force modernization and interoperability; and, finally, multinational cooperation through enhanced partnerships. The speaker noted strategic trends and directions over the past few years, including informed decision making (technology, networking, intel); enhanced infrastructure to support rapid deployment capabilities; the resilience of the Alliance (in terms of finance, with the benefits of a "peace dividend" mindset); security networking within the Alliance and partner nations (improved strategic communication, cutting-edge resources in the information domain). He concluded with thoughts on resilience in the reality of diminished but stabilized defense budgets, and upcoming complex training exercises in support of the Very High Readiness Joint Task Force (VJTF) and Readiness Action Plan (RAP).
The morning program continued with a briefing from the Strategic Plans and Policy Directorate on Long Term Transformation efforts. They discussed the concept development process to overcome challenges and capitalize opportunities within the framework of the Future Security Environment, examining its applicability for the Alliance, and concluded with a transparent and collaborative analysis to influence force development out to 2030.
Mr Van ZEEBROECK, from the Capability Development Directorate, Defense Planning Division, then presented the NATO Defense Planning Process (NDPP) and the enhancements that have been incorporated into it. He outlined the general process. but primarily focused on enhancement objectives to meet today's modern and rapidly changing requirements.
Course Members afterwards enjoyed a quality panel discussion/question and answer session, supported by flag officer representatives from all ACT Divisions. A wide range of applicable and critical questions were raised, mostly focusing on current priorities throughout the various NATO commands.
While the Course Members attended briefings, the spouses* participating in this Field Study enjoyed a tour of historic Williamsburg, Virginia.
The ACT program concluded with final comments from the Senior Course representative and MGen BOJARSKI, followed by a hosted lunch at the ACT Staff Mess. The delegation then departed for Washington, DC, the final stop in the US for this first week of the Field Study.
*The spouse programme is a non-hosted initiative funded solely by participants.