Senior Turkish Officers visit the NATO Defense College
13 May. 2015
|
Last updated: 10 Oct. 2017 13:26
On 12th May 2015, the NATO Defense College had the honour of welcoming the Commander of the Turkish Special Forces Major General Zekai Aksakallı and the Commander of the Communications, Electronics and Information Systems Education Centre, Major General Ersun Altunsoy, who were accompanied by the Turkish Defence and Army Attaché in Rome Colonel Mehmet Demirağ.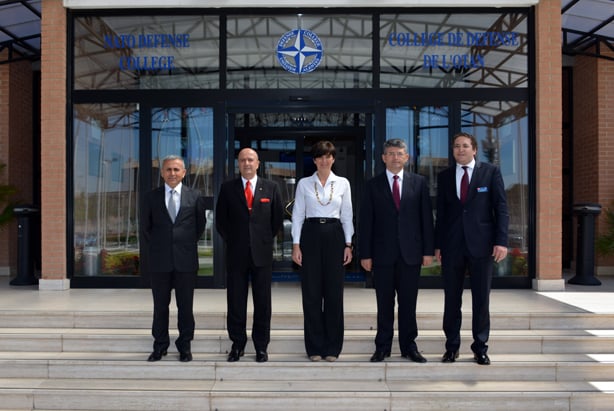 The delegation met the Dean, Dr Daria Daniels Skodnik (SVN C), for an office call after being briefed by Faculty Adviser and Senior National Representative for Turkey Mr Tahir Bora Atatanır (TUR D) on NDC's activities, courses, and mission.
The guests were then escorted to the Maynard-Thorn Auditorium to attend the Q&A session of the Generals, Flag Officers and Ambassadors' Course (GFOAC) which followed a lecture on "The Transatlantic Link: the Cornerstone of the Alliance" by Ambassador Robert E. Hunter (USA) and Prof Carlo Masala (DEU).