Visit of LtGen Sakari Honkamaa, Deputy Chief of Staff, Personnel, Finnish Defence Command
27 May. 2015
|
Last updated: 10 Oct. 2017 13:26
On 20th May 2015, the NATO Defense College had the honour of welcoming the Deputy Chief of Staff, Personnel, Finnish Defence Command, Lieutenant General Sakari Honkamaa, who was accompanied by the Chief of Current OPS, Brigadier General Markku Myllykangas (NDC Ancien from SC 120), and by LtCol Jukka Jokinen.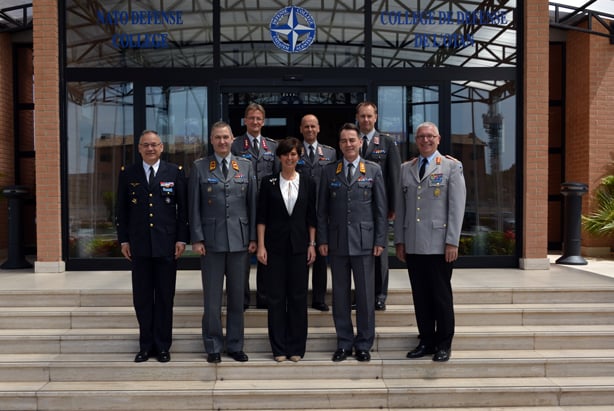 The delegation was welcomed by the Dean, Dr Daria Daniels Skodnik (SVN C), and the Director of the Academic Planning and Policy Division, BGen Heinz Josef Feldmann (DEU A), who then had the opportunity to discuss current issues with the visitors. The Chief of the College's Academic Programmes Branch, Col Vesa Kangasmaki (FIN Senior National Representative), briefed the guests on the NDC's mission, courses and related activities.
During the morning the visitors joined Senior Course 126 in the Maynard-Thorn Auditorium for lectures on "Cyber Warfare and Defence", by Cdr Jason C. Kedzierski (USA/NATO) and LtCol Jan Stinissen (NLD/NATO).
The visit highlights the importance of intensified cooperation between the College and Finland, which is not only a valued Partner of the Alliance but has actually set a most significant precedent as the first Partner nation to provide the NDC with a Faculty Advisor.