New Research Division Publication: "NATO Interoperability: Sustaining Trust and Capacity within the Alliance"
19 Jun. 2015
|
Last updated: 10 Oct. 2017 13:26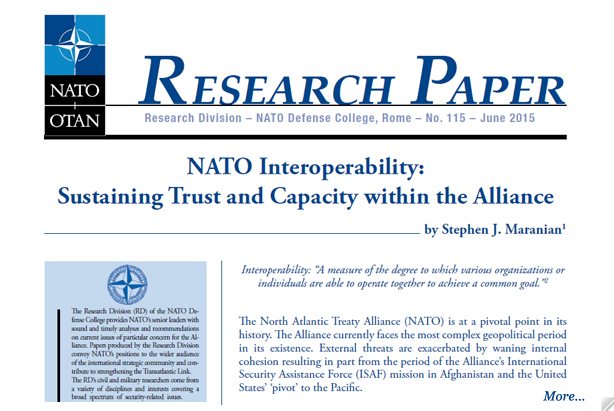 Interoperability provides a vehicle for enhancing trust and cooperation within NATO while simultaneously mending fences in order to keep the Alliance strong.
The latest NDC Research Paper by Col. Stephen Maranian describes some examples of the modest erosion of trust that has emerged within NATO during the ISAF era while offering recent examples from both ISAF and Libya, which show that despite internal friction, interoperability has emerged as a significant strength for the Alliance.
While highlighting the increasing prominence of the concept of interoperability in NATO's recent strategic guidance, the paper also provides some suggestions for NATO's way ahead by discussing methods for improving interoperability in its doctrine, organization, training, material and personnel.
We hope you'll enjoy our latest publication.
Jeffrey A. Larsen, PhD, Division Head Research