Senior Course 126 Regional Approaches Field Study: Vilnius
22 Jun. 2015
|
Last updated: 15 Sep. 2015 14:25
'Wheels in the well', as some older pilots may say, and Senior Course (SC) 126 was once more pitched into the thrilling Bernoulli experience and departed the Caucasus, heading northwest. Waving a fond goodbye to an aspirant NATO and EU member, the next stop on SC 126's Field Study 3 was Lithuania, a relatively new NATO member. NATOs Baltic State members are also in the front line in terms of exposure to Russian aggression but, unlike Georgia, they benefit from the security umbrella underpinned by Article 5 of the Washington Treaty.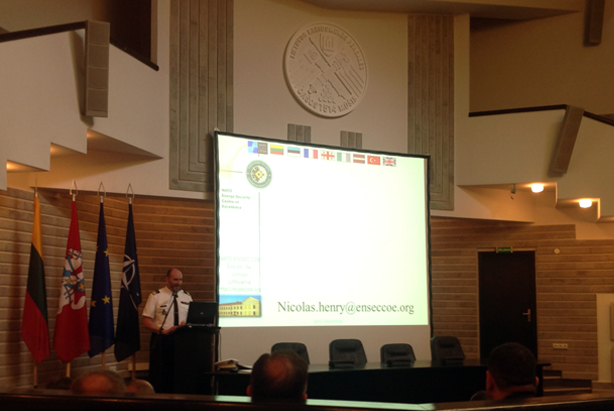 Immediately striking throughout Lithuania's capital city of Vilnius were the clean streets, mowed verges, good roads and well maintained buildings, with many new construction programmes sprouting in the late spring warmth. This investment is clearly a benefit of being an EU member state. NATO membership and its joining requirements form an important bridge to EU accession, by promoting reforms based on free speech, democracy, human rights and the rule of international law.
A packed programme to squeeze the most out of the Field Study investment meant a 100m sprint lunch, followed by a 400m dash, accompanied by blue flashing lights, wailing sirens and a red-light amnesty, and SC 126 arrived at Lithuania's Parliament Building … metaphorically breathless! They were then treated to a frank canter through 'The security situation in the Baltic Sea region and possible threats'. This excellent introduction by the Chairman of the National Security and Defence Committee was followed by an honest and insightful question and answer session, which proved invaluable. For those reading this with a view to attending the SC, quality presenters and access to key high-level policy-makers represent an underlying strength of the NDC's academic programme. Keen? Then sign up now for SC 128, starting mid-February 2016.
Running shoes worn out, but now whip in hand, SC 126's steeds were then coaxed back to their stables for hay and water before being harnessed again for an evening reception, hosted by Lithuania's Defence Policy Director. The venue was set amidst stunning scenery, about an hour's gallop from the capital. With little sign of the sun willing to set at 22:30, carriages were hailed and the return journey to Vilnius concluded a busy and rewarding day.
Rising early the next morning, SC 126 arrived at the Ministry of National Defence for the first presentation and following discussion on bilateral and Euro-Atlantic cooperation. Being on NATO's Eastern borders enabled the NDC group to take stock of another national perspective on relations with Russia, complementing what had been learnt during the visit to Georgia at the beginning of the Field Study. There then followed an in-depth assessment of how Russia uses 'information warfare', and the challenges facing democratic societies when combatting a deceitful propaganda assault. Democracies do not need propaganda. In a free society with free press, unsubstantiated claims by government would quickly be exposed. Simply stooping to counter propaganda with propaganda is fundamentally not democratic. This was the clear conclusion from a thought-provoking question and answer session. The SC were then updated on how NATO is revising its structures and mission to support an energy security policy, before a final presentation by the Ministry of Foreign Affairs on the current dynamics of Lithuanian-Russian relations. Unsurprisingly, the question and answer session was forthright, illuminating and reinforcing the concerns of a frontline NATO member state when facing the threat posed by Russia.
After lunch, SC 126 departed from Vilnius' modern airport following a memorable two-day stay. The next stop will be Poland, whose views on the current situation the NDC group is keen to hear. How Poland intends implementing some of the key outcomes from the Wales Summit, to address Russia's unwarranted aggression and clear breach of the international rules-based system, will also be an eagerly awaited subject of discussion during the visit to Poland.