Inauguration of the Fourteenth NATO Regional Cooperation Course (NRCC-14)
29 Sep. 2015
|
Last updated: 03 Dec. 2015 12:13
On 28th September 2015, the NATO Defense College in Rome had the pleasure of welcoming new participants to the 14th edition of the NATO Regional Cooperation Course (NRCC 14).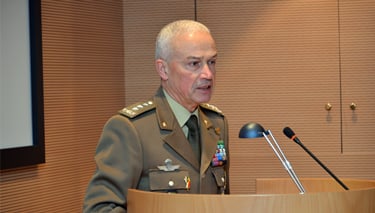 The NRCC is one of the NDC's principal educational programmes and brings together participants from NATO countries, the Partnership for Peace (PfP), the Mediterranean Dialogue (MD) and the Istanbul Cooperation Initiative (ICI), as well as Global Partners.
The Course has a fundamental purpose: to reach a better understanding of complex issues in today's rapidly changing security environment, with a special focus on the Middle East, from the perspective of MD, ICI, PfP and NATO member countries, thereby promoting closer dialogue and cooperation.
In the Ismay Auditorium, Course Members were welcomed by the NDC Commandant MGen Janusz Bojarski (POL F), as well as by the Dean Dr Daria Daniels Skodnik (SVN C) and by the Director of the Middle East Faculty Col Giuseppe Morabito (ITA A), together with MEF staff.
MGen Bojarski underlined the importance of the NRCC, which gives participants a unique opportunity to interact, openly deliberate and better understand each other on crucial international security challenges linking NATO with the MENA region.
Furthermore, the Dean stressed the fundamental role that the NDC plays as the Alliance's premier academic institution. Col Morabito concluded the inauguration ceremony by providing details of the NRCC's organization, objectives and curriculum content.
The inauguration lecture was delivered by LtGen Giorgio Battisti (ITA A), Commandant of the Italian Army Training and Doctrine Command. He described his experience as ISAF Deputy Chief of Staff Support and Italian Senior National Representative, and then focused on the NATO Regional Cooperation Course as a perfect avenue to promote dialogue and to reinforce cooperation for a better future by sharing values such as bravery, loyalty and honour.
This year, the NRCC brings together 42 participants from 17 countries. As in recent editions of the course, participants will attend a Papal audience at St Peter's Basilica, visit the Great Mosque of Rome and the city's historic Synagogue, with a view to improving knowledge and understanding of the three great monotheistic religions. There will also be a number of significant institutional visits during Field Study periods: in Brussels (NATO HQ and Shape), Naples (JFS and the Oriental University), Capua, Caserta, Monte Cassino, as well, of course, as Rome.
The College extends a warm welcome to all NRCC participants, and wishes them a pleasant and profitable stay in the Eternal City.