Senior Course 127: European Perspectives Field Study - Madrid
01 Oct. 2015
|
Last updated: 05 Oct. 2015 10:06
Senior Course 127 arrived in Madrid late Tuesday, September 29th, for the second leg of the European Perspectives Field Study and enjoyed an evening in the beautiful Spanish capital.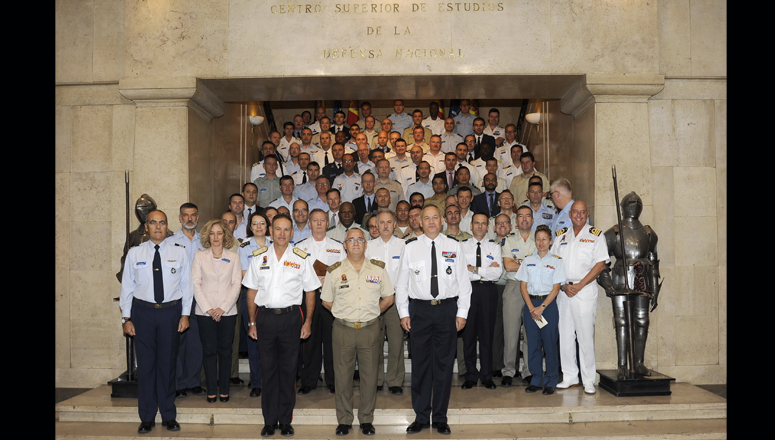 On Wednesday, September 30th, the NATO Defense College delegation visited the Spanish Center for National Defense Studies (CESEDEN). The Commandant of CESEDEN, Lieutenant General Alfonso De La Rosa Morena, hosted the visit and began with a gift exchange and guest book signing with Major General Pascal Valentin, the NDC Head of Delegation. Following the exchange and an official photo, Lieutenant General Rosa Morena provided introductory welcoming remarks highlighting the rich history of CESEDEN.
The Spanish Ministry of Defense Director of Policy, NDC Ancien Admiral Francisco Martinez Nuñez, provided the course with a valuable overview of Spanish Defense Policy. He highlighted Spain's unique position and relationship with its European and North African neighbors and provided detailed insight into Spain's strategic challenges and opportunities. Course Members were then briefed on the mission and on professional military education conducted at CESEDEN, followed by a tour of the facility.
The visit concluded with a detailed overview of the Spanish Armed Forces. Colonel Antonio Fragua briefed the delegation on Spanish military capabilities and modernization initiatives. He highlighted national defense spending challenges and explained the Spanish approach to achieving defense requirements under current fiscal constraints.
Following the presentations and thorough question and answer periods, Course Members enjoyed a lunch and closing remarks in the CESEDEN banquet hall. Major General Valentin closed the visit by expressing appreciation to the CESEDEN Commandant for the hospitality and valuable exchange, while looking forward to future visits.