Senior Course 127: European Perspectives Field Study - Paris
06 Oct. 2015
|
Last updated: 06 Oct. 2015 10:02
Senior Course 127 travelled from Lisbon to Paris on Saturday for the fourth stop of the European Perspectives Field Study.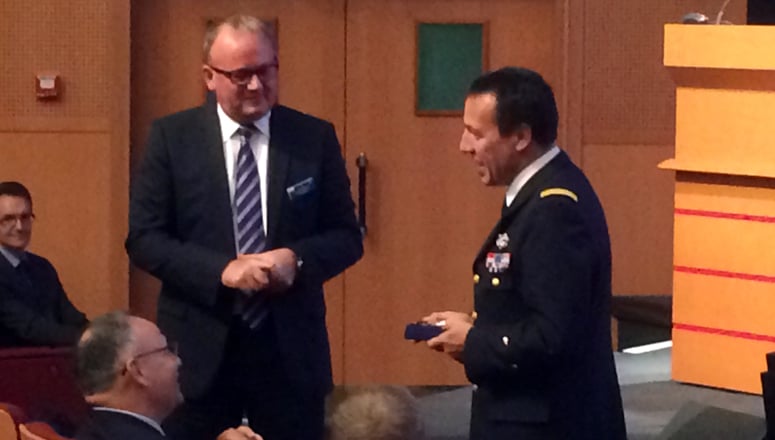 On Sunday, Course Members enjoyed nice weather and the opportunity to socialize with their committees in the many wonderful historical and cultural locations throughout the city.
On Monday, French hosts welcomed the delegation at the École Militaire in the heart of Paris, for discussions with representatives from the French Ministry of Defense and Ministry of Foreign Affairs. Brigadier General Clament, Head of the Regional Issues Department, welcomed the NDC delegation and delivered opening remarks. He highlighted France's commitment to the NATO Defense College and the importance of the NDC mission.
Mr Landour, Head of the Europe, North America, and Multilateral Organizations Department, provided the delegation with a historical background and clear understanding of France's commitment to NATO past, present, and future. Course Members gained a clear understanding of the French perspective on defense and security issues.
The concluding speaker for the day was Mr. De Gonneville, Deputy Director for Strategic Affairs. He discussed French foreign policy and the role of International Organizations. He explained the French approach to effective multilateralism, and how France balances requirements regarding International Organizations with its commitment to maintaining autonomy and freedom of action. Mr. De Gonneville provided the delegation with a unique first-hand perspective of French priorities and challenges.
Course Members challenged the presenters with insightful questions from a strategic and multinational perspective, and gained a better understanding of the French defense and security perspective. The presenters provided clear and candid answers that enhanced learning and common understanding.
The NDC Commandant and head of delegation, Major General Bojarski, closed the session by recognizing the roots of the NDC that lie in Paris, where it was first located. He thanked the presenters for the quality of their presentations and detailed, candid answers to Course Members' questions. He exchanged gifts with BG Clament, who then hosted the delegation for lunch, together with the Course Members' spouses.