A delegation from the Albanian Training and Doctrine Command visits the NDC
08 Oct. 2015
|
Last updated: 03 Dec. 2015 12:13
On Thursday 8th October 2015, the NATO Defense College had the pleasure of hosting a delegation from the Albanian Training and Doctrine Command, headed by Acting Commander Col Ruzhdi Kuçi.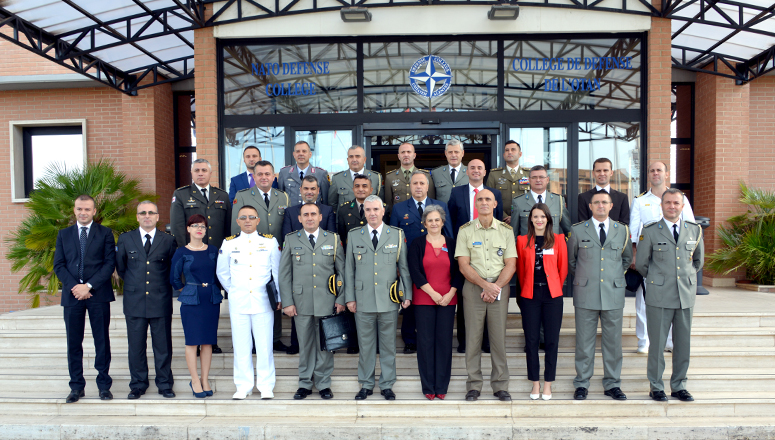 Upon arrival, the delegation was warmly welcomed by NDC Director of Management BrigGen Salvatore Carta (ITA A), before moving to the Auditorium to hear a briefing given by the Head of the Public Affairs Office, LtCol Alberto Alletto (ITA A), on the NDC's mission, courses and related activities.
The visit to the NDC gave the visitors considerable insight into the unique contribution to strategic-level education and research made by the College, as well as the opportunity to have a useful exchange of views between the NDC leadership and the Albanian Armed Forces Academy.
Moreover, the delegation had the opportunity to attend NRCC-14's morning lectures, on "US Foreign Policy in the Middle East", by Mrs Anderson (USA C) and Prof Benantar (ALG C), followed by a challenging Q&A period on several topics covered during the presentations.
The Training and Doctrine Command (TRADOC) represents a complete system of education and individual training of the doctrine development and support of collective training for the Armed Forces (AF).
Another important component of TRADOC's mission is provision of strategic, operational, tactical, scientific and technological expertise for national and international commitments, ensuring the necessary doctrinal structure for the normal functioning of the Armed Forces.
Colonel Ruzhdi Kuçi was appointed as Acting Commander of TRADOC in December 2013. He holds a postgraduate degree from the Academy of the General Staff and from the German Land Forces Academy. He is currently pursuing a PhD at the Institute of Albanology in Tirana. Colonel Kuçi's previous assignments include experience with the United Nations Peacekeeping Mission in Bosnia Herzegovina, as a Military Attaché in Germany, as Commander of the General Staff's Joint Operations Centre, and as a Unit Commander in the General Support Regiment.